DRAFT
Transportation options to the Action Lab, located at Trinity College's downtown campus, 10 Constitution Plaza, Hartford CT. We recommend riding the bus or biking, since car parking is expensive.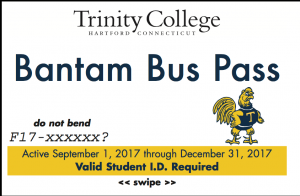 1) Ride free with Bantam Bus Pass: Every semester, Trinity's Office of Community Service and Civic Engagement provides each Trinity student a Bantam Bus Pass for unlimited free rides on the CT Transit bus system. Follow Trinity Bantam Bus Pass on Facebook. Buses that stop at Trinity College: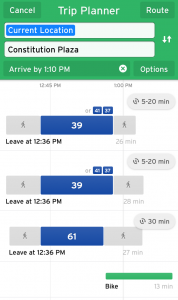 Download the free Transit app to your smartphone for real-time data (shown at right), or view public transit schedules on Google Maps. Budget at least 30 minutes for door-to-door travel from Trinity's main campus to the downtown campus, including a short walk to and from the bus stop.
See also real-time bus data in the map below (or open map in a new tab).
2) Bike from Trinity College to the downtown campus in less than 15 minutes. (To come: Recommended bike route with map).
3) Ride Services (with approximate costs and recommended links to come).
4) Carpool with others who are driving to the same location.
We do not recommend driving solo by car, because downtown parking is expensive. The Constitution Plaza parking garage charges $26.50 per  day, or $13.20 for 3 hours. Street parking is very limited and has a 2-hour limit on weekdays from 8am-6pm, making it unsuitable for a 3-hour class.