Oct 28 2013
About the 2013 CHAS Black and Latino Males Conference
13th Annual Black and Latino Males Conference
"Started from the Bottom? Shaping Identity, Leadership, and Community"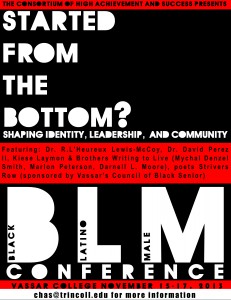 The CHAS Black and Latino Males Conference, hosted by numerous CHAS campuses since 2001, brings male-identified Black and Latino students together in dialogue and intellectual engagement.
Conference goals include building capacity for effective leadership, exploring questions of identity and community, academic and social networking, and reaching for high academic achievement.
Each campus sends a team of students, along with at least one administrator and faculty member, and commits to developing an action plan for their campus. In establishing the conference, CHAS  recognized that Black and Latino males continue to be underrepresented in higher education and particularly at selective liberal arts colleges.