Archive for August, 2012
Class of 2016 – you have your own librarian to teach you research skills, help with assignments and answer questions. You'll meet us in your First Year Seminar, Cities, Guided Studies, Interarts, or Interdisciplinary Science course…click on our pictures to learn more!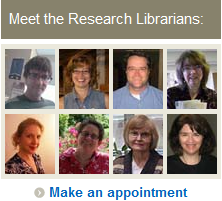 The Library is launching a completely redesigned Web site on Tuesday, August 21! The new site is the culmination of several months work by a dedicated group of librarians, Communications staff, and ITS staff. We hope the new design will provide a more intuitive, streamlined interface to Library resources as well as more visible paths to research assistance.
The Library's current Web site, designed in 2006, has served  us well, but no longer adequately reflects Library programs and services.  Moving the site into the College's Web wrapper has provided an opportunity to redesign the Library Web portal according to current user needs – no easy task! The Web design team conducted numerous usabilities studies with Trinity's students to inform its decisions.
The main goal of the new site is to provide straightforward access to library resources, which is accomplished using a tabbed block in the center of the page. The catalog is searchable from the first tab, article databases and other digital collections are accessible in the second and third tabs. The fourth tab provides access to course and research guides for library users who seek guidance in navigating the research process.
Surrounding the tabbed block, there are several methods to connect with librarians or get help: a real-time chat widget, a navigational button for "Research Help," and a "Meet our Research Librarians" section that links to staff profiles and a tool to schedule an appointment.
There are shortcuts on every page to our social media sites (Facebook, Twitter, Pinterest, and our blog), hours, floor directory, and Library account information. Finally, there is a section near the bottom of the page that features newly acquired titles in the Library, which will be updated regularly.
As the nature and packaging of library information and services continues to evolve during the next several years, we hope to respond to these changes, in part, by modifying our Web site incrementally.  Thus, we hope this will be the last time we will need to change our Web appearance so dramatically, and all at once!
Amy Harrell, Digital Projects Librarian, coordinated this project, and was joined by the talent and dedication of the following librarians: Nancy Smith, Image Collections Librarian, Rob Walsh, Social Sciences Librarian, Jeff Liszka, Associate Access Services Librarian, Jessica Smith, former Outreach Librarian, and Scott Burright, former Systems Librarian. Ellen Buckhorn's assistance from the Communications Office was also invaluable, as was the programming work by ITS staff Jean-Pierre Haeberly, Jason Gormley, and Craig Jirowetz.
We welcome your feedback and comments, which may be directed to Amy Harrell, amy.harrell@trincoll.edu