Archive for May, 2014
The Library hours have changed for the Summer and interim periods. See the Hours page for our open times and holidays. Please note: there will be no after-hours access to the LITC building for the Trinity community from Monday, May 19th through Sunday, August 24th.
Trinity College Librarian Richard S. Ross is featured in a recent article by the Hartford Courant, "Envisioning Witches on Trinity's Gallows Hill." Dr. Ross was interviewed on his research of Connecticut's witch trials.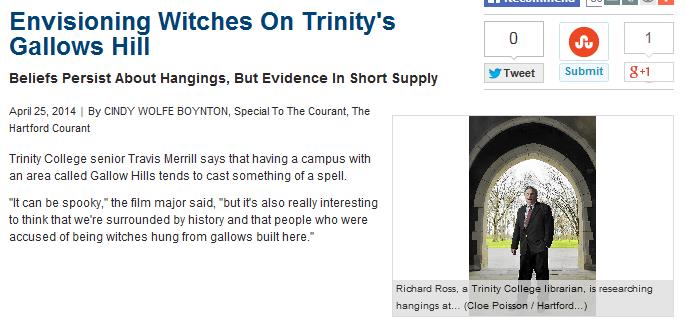 The full article is accessible here: http://articles.courant.com/2014-04-25/news/hc-trinity-gallows-hills-20140425_1_connecticut-river-witchcraft-witch-trials