Archive for February, 2015
Two of our four Library Media Group Study Rooms on Level 1 have completed their renovations.  Rooms 113 and 114 now have table seating for six, 65″ TVs, multiregion DVD players, and laptop hookups.  The new arrangement better allows for collaborative work in addition to media viewing.  Rooms 115 and 116 still have their original setup with lounge seating and a range of other types of media playback equipment.
Room keys for all four group study rooms can be checked out from the Circulation desk on Level A.  Usage is limited to 3 hours each on a first-come-first-serve basis.
During J-Term, history professor Jennifer Regan-Lefebvre taught a class on the historical contexts of Downton Abbey, and the students come into the Watkinson twice in one week to look at maps of London, books on etiquette and house architecture, British war (WWI) propaganda posters, view stereoscope photographs of the front (a sort of "3-D" picture process popular in the 1920s), and to listen to the music of the time on one of the phonographs we have in the Watkinson.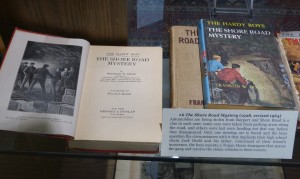 Our current display in the Library's Level A atrium are a selection of books from the early 20th century children's series produced by Edward Stratemeyer. Familiar names such as Carolyn Keene (Nancy Drew), Frankin W. Dixon (Hardy Boys), Victor Appleton (Tom Swift), Laura Lee Hope (Bobbsey Twins), and scores of others were all pseudonyms invented by Stratemeyer who either wrote the books himself or contracted them out to freelance writers for a flat fee.
Some 1,300 titles were produced for these series and sold and estimated 200 million copies by the 1980s, forming a massive portion of the strata of American popular literature for young people.
Included are selections from a gift to the Watkinson Library of a "study collection" of these series, numbering almost 800 volumes, from a collector in the southwest.