Archive for March, 2015
As part of our preservation efforts in the Watkinson, we sometimes hire a conservator to make a clamshell box to protect an extra-special, fragile book. Stephanie Gibbs, a bookbinder from Easthampton, Mass., is making a linen clamshell box for an incunable with delicate, exposed sewing. The fit of the box is important so that the book doesn't shift when being shelved and get damaged.
An "incunable" (the English form of the Latin incunabula = "cradle") is a book from the "infancy" of printing, covering the years 1455 to 1500. Why doesn't Stephanie just repair the binding? Several reasons: being able to see the original structure of the book is a window into the history of the artifact; appropriately restoring a binding is time intensive, requires a high level of expertise, and is therefore very expensive. This type of treatment would be reserved for a book that is very rare indeed or that needs to be handled fairly often for teaching or research. Boxing is a practical way to protect an artifact for the future.
—Sally Dickinson, Associate Curator & Preservation Librarian
The Library will have adjusted opening hours over spring break.  They are:
Saturday-Sunday, (March 14-15), closed
Monday-Friday, (March 16-20), 8:30am-4:30pm.
Saturday (March 21), closed
We will resume normal hours on Sunday, March 22nd.  However our 24 hour study spaces will remain open to Trinity users throughout this period.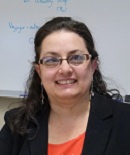 We are pleased to announce that Kellie O'Donnell has joined the Library staff on as our new Access Services Librarian.  Kellie comes to us after several years with Hartford Public Library, most recently as one of their senior managers in their downtown branch.  At Trinity, she will oversee our circulation, course reserves, and interlibrary loan services.  You will find her ready to help near the Circulation Desk in LITC A28.
Kellie succeeds Jeff Liszka, who is fortunately still working for us but is now one of our Research and Instruction librarians supporting the Arts and Humanities.  Jeff can be found in his new office near the reference area in LITC A37.