Overview of video content offered by Trinity Library
Trinity Library offers a vast selection of films for teaching and learning. In addition to a rich DVD collection, the Library subscribes to several subscription packages of film content. These include:
Kanopy – Over 2,000 educational and feature films from major producers including California Newsreel, Criterion Collection, Green Planet Films, Kino Lorber, and others.
Films on Demand – Over 30,000 educational and documentary videos from Films Media Group and content producers such as news broadcasting networks , HBO, NOVA, BBC, National Geographic and more.
Swank –  A small but growing collection of feature films.
Any title  from the above subscription packages can be conveniently provided to students in a course by embedding a direct link into a course Moodle page. Please see this post for tips.
Please note: Both Kanopy and Swank provide their titles via 12-month license. This means it is possible a license could expire in the middle of the semester.  For any title you intend to use throughout your course, it is important to check the catalog record in OneSearch. There is a date next to the availability information that will tell you how long we have it. If necessary, please ask library staff to renew the title.
Additionally, the Library can provide streaming video access to DVDs via Moodle by faculty request.  Visit this page for more information on Kaltura streaming video services.
Discovering content in OneSearch.
The most effective way to search in OneSearch is to begin with a title or keyword and then apply filters on the results screen.
The screen shot below shows the results of a keyword search for "marriage." To find video content, select Trinity College under Institution, and use the additional filters on the left side in the following ways:
| | |
| --- | --- |
|  To Find | Apply the Filters |
| Films in Kanopy, Films on Demand, or Swank | Under Resource Type, click "Show more" and select Audio and Video (Streaming). Note this will also include audio. |
|  DVDs | Under Resource Type, click "Show more" and select Video (DVD/VHS). |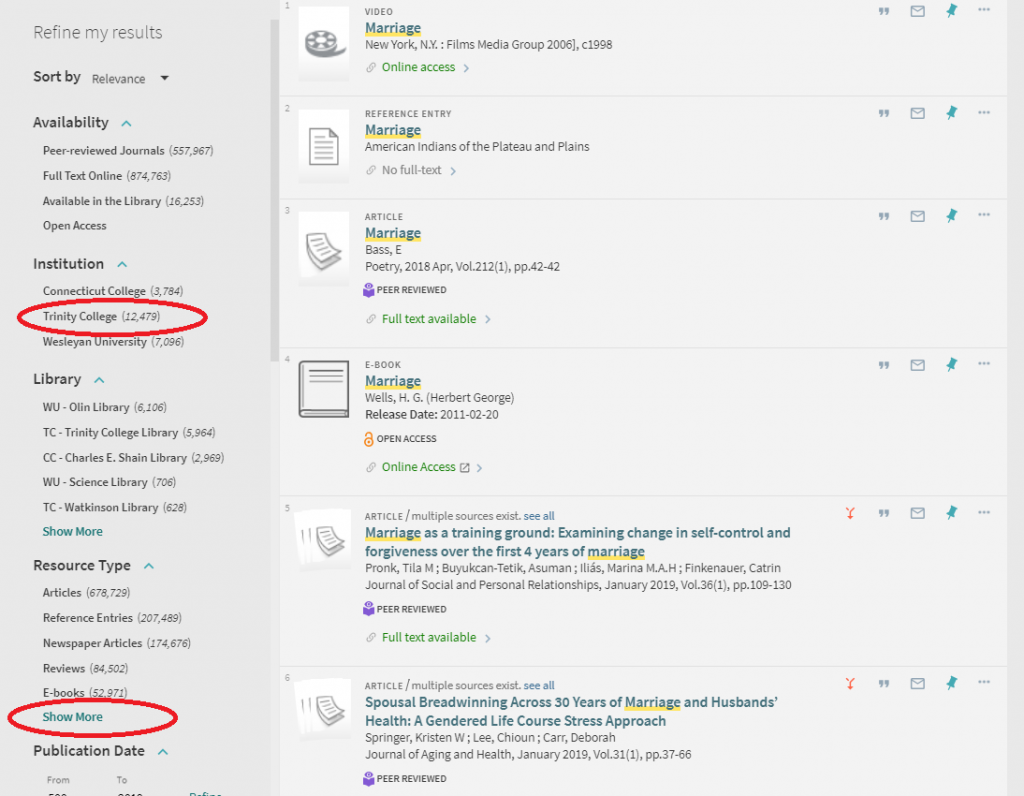 For additional assistance finding film content or using it in classes, please contact your instructional technologist or a research librarian.