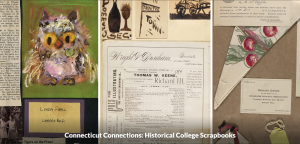 Over the past year, the CTW Digital Projects Group, which encompasses staff from Connecticut College, Trinity College, and Wesleyan University, came together to consider how the three schools might collaborate on digitizing and publishing archival or other materials owned by each school.
For its pilot project, the group selected student-made scrapbooks from multiple eras: those of Linda Abel, a student at Connecticut College from 1965-1969, Lynn Smith Miller, a student at Wesleyan from 1910-1914, and Phillip DeWitt Phair, who attended Trinity College from 1890 – 1894. The scrapbooks offer a glimpse into college student life during these periods through ephemera such as playbills and athletic event tickets, dance and social cards, artwork, valentines, invitations and letters, newspaper clippings, menus, and miscellaneous objects.
Utilizing the University of Southern California's open-source platform, Scalar, members of the group scanned and uploaded an image of each scrapbook page, jointly decided on metadata fields, and added metadata and descriptions for each page, as well as a biography and introduction to each scrapbook.
"Connecticut Connections" was recently presented at the CTW Retreat in downtown Hartford and is publicly available online at: http://scalar.usc.edu/works/ctwscrapbooks.