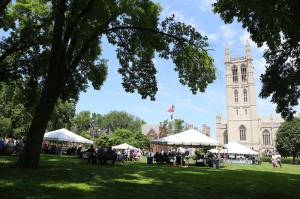 More than 800 alumni and family members returned to Trinity for Reunion 2014, June 12-15. This year's Reunion classes (years ending in 4s and 9s) were well represented 'neath the elms–and everywhere else on campus–as they reminisced with friends, enjoyed alumni- and faculty-led presentations, and participated in tours, open houses, class dinners, and other events.
The festivities got under way Thursday with a Class of 1964 reception, dinner, and squash demonstration and continued nonstop through Sunday morning. A bout of rain Friday gave way to sunny skies for the weekend, providing a perfect backdrop for the bagpipe-led Parade of Classes down the Long Walk. Also on Saturday, alumni awards and class gifts were presented at Alumni Convocation, which featured remarks by then-President James F. Jones, Jr., who retired on June 30 after a decade as president. Sunday morning's offerings included a conversation with then-President-elect Joanne Berger-Sweeney at Vernon Social, which saw standing-room-only attendance. The Trinity spirit was alive and well.
Congratulations to the 2014 Reunion Award Winners
The Eigenbrodt Cup
William K. Marimow '69The Alumni Achievement Award
James T. Caillouette '79
The Kathleen O'Connor Boelhouwer Alumnae Initiative Award
Emily Latour Bogle '79
The Gary W. McQuaid Award
Daniel A. Saklad '64
The Alumni Medal for Excellence
David J. Ahlgren '64
Kevin J. Maloney '79
E. Carter Norton '79
Nathaniel S. Prentice '69
The Outstanding Class Secretary Award
Christopher J. McNeill '64
Board of Fellows Award
Class of '74
Jerome Kohn Award
Class of '64
George C. Capen Trophy
Washington, D.C.
To see more pictures from Reunion, visit our Flickr gallery.