Nearly 1,000 alumni and their family members returned to the College for Reunion 2015, held June 4-7. This year's Reunion classes – those with years ending in 5s and 0s – reconnected with old friends, enjoyed presentations by alumni and faculty, and took part in open houses, tours, class dinners, and other events.
Thursday evening marked the start of the festivities, with a Class of 1965 reception, dinner, and passionate pursuits display, and the celebration continued throughout the weekend. Sunny skies ruled, offering a picture-perfect backdrop for all events, including the bagpipe-led Parade of Classes down the Long Walk. At Saturday's Alumni Convocation, featuring Dean of the Faculty Tom Mitzel, alumni awards and class gifts were presented. Sunday morning's offerings included a conversation with President Joanne Berger-Sweeney's Cabinet members at Vernon Social. The blue and gold were out in full force!
For more Reunion photos, please visit our Flickr gallery.
Photos by The Defining Photo, John Marinelli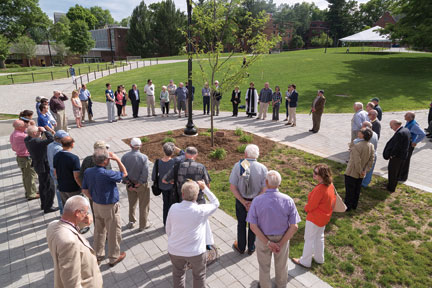 2015 REUNION AWARD WINNERS
THE EIGENBRODT CUP 
Edward C. "Ted" Rorer '65, P'91
THE ALUMNI ACHIEVEMENT AWARD
Bernard "Ben" Barber '65
THE KATHLEEN O'CONNOR BOELHOUWER ALUMNAE INITIATIVE AWARD
Nina McNeely Diefenbach '80, P'18
THE GARY W. MCQUAID AWARD
Samuel H. Kennedy '95
THE ALUMNI MEDAL FOR EXCELLENCE 
Patrice Ball-Reed '80
Peter L. Denious '90
Matthew A. Levine '60
Andrew D. Smith '65
THE OUTSTANDING CLASS SECRETARY AWARD 
Grosvenor "Rick" Richardson '60, P'92, '95
BOARD OF FELLOWS AWARD 
Class of 1960
JEROME KOHN AWARD 
Class of 1965
GEORGE C. CAPEN TROPHY 
Trinity Club of Hartford