Two projects receive $10,000 grants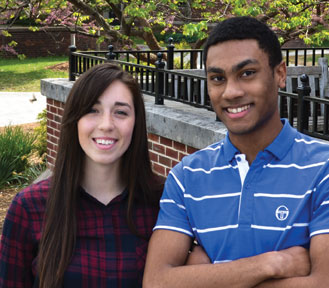 Two projects developed by Trinity College students were selected to receive $10,000 apiece from the Kathryn W. Davis Projects for Peace program, an initiative for college students to design grassroots projects for the summer to promote peace and to address the causes of conflict.
Selected for their proposal "Promoting Peace through Environmental Sustainability," Karl W. Hallden Engineering Scholar Andrew Agard '18 and Harry E. Johnson Scholar Cassia Armstrong '18 worked with the Fondes Amandes Community Reforestation Project (FACRP) in St. Ann's on the Caribbean island of Trinidad to build a rainwater catchment and storage system to aid with firefighting and to provide reserve supplies of water for domestic use and irrigation.
Agard, who is from Trinidad and Tobago, plans to double major in computer science and mathematics. Armstrong, from Vancouver, British Columbia, intends to double major in chemistry and environmental science. Both participate in Trinity's Interdisciplinary Science Program (ISP) and developed their proposal after working together on an ISP assignment.
The other Trinity project selected for funding, "Interfaith Harmony," was designed by Stanley J. and Rosemary D. Marcuss Scholar Noor Malik '18, who worked in partnership with the American-based Seeds of Peace to bring together 50 teenagers from several major Pakistani cities who belong to different religions and sects to engage in a weeklong conflict-resolution program in the cities of Islamabad and Lahore (her home city). Religions represented included Islam, Christianity, Hinduism, and Sikhism.
Malik, who plans to double major in political science (with a concentration in international relations) and philosophy, planned to bring the experience back to Trinity in the fall through campus presentations about the conflict-resolution project.