Varsity Eight Wins National Title
Trinity's women's rowing varsity-eight crew won its fourth national title and its second in a row in the NCAA Division III Championship Regatta. The Bantam varsity eight edged Bates by 3.21 seconds to take gold for the fourth time in the last 11 years (2005, 2008, 2014, 2015) and earn 30 points for Trinity in the team standings. Bates had won the grand final among the second-varsity eights for 12 points, and its 27 points for second in the varsity eights grand final led to a total of 39 and allowed the Bobcats to deny Trinity a second consecutive NCAA team title by a single point. The Bantams claimed third in the second-varsity eight race with a time of 7:13.19, which was nearly six seconds shy of second-place Wellesley and eight behind Bates.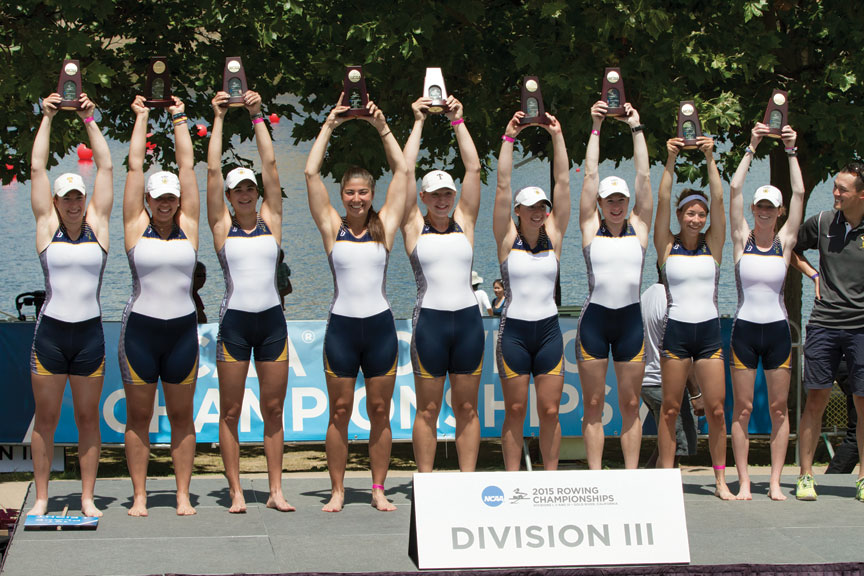 Trinity's gold-medal-winning lineup consisted of seniors Chanel Erasmus, Sarah Keane, Kiely MacMahon, and Georgia Wetmore; juniors Madeleine Boudreau, Claudia Jensen, Cristina Pretto, and Jennifer Sager; and first-year Antonia Bowden. Coached by Wesley Ng in his ninth season, the Bantams posted an 11-0-1 record in dual races and finished third in the ECAC National Invitational Regatta and fourth in the New England Rowing Championships. Its varsity and second-varsity eight earned bronze medals in the ECAC Regatta, and its third-varsity eight took silver in the New England and ECAC Championship Regattas. In Overall Points, Trinity was fourth at the New England Championships among women's teams and third among men's and women's teams combined, as well as fifth in both at the ECAC Regatta. Boudreau was named to the All-New England Small College Athletic Conference (NESCAC) First Team and the Pocock All-American First Team, while Wetmore was an ECAC/National Invitational Rowing Championship (NIRC) All-Star and a Second Team All-American, Jensen was All-NESCAC First Team, and MacMahon was All-NESCAC Second Team.
Photos by Mark Hombo