Bhumika Choudhary '18 spearheads successful effort
By Jim H. Smith
Photos by John Marinelli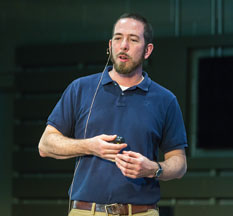 The first time Bhumika Choudhary '18 saw a video of a TED talk was in the summer of 2012, when she was in England, taking summer classes at the University of Oxford. It made a big impression.
Recorded at Cambridge University, the program featured one of her professors, John Sheffield, co-founder and president of Boston-based Seven Bridges Genomics, a company dedicated to the development of powerful bioinformatics technology to enhance genomic research and accessibility to the scientific community worldwide. Sheffield talked about the rapid evolution of genomics during the first decade of the 21st century.
When he passionately explained to his audience that "the speed at which we can read biological information as DNA data has doubled every five or six months (since 2006)," Choudhary instantly understood the power of not only his genomics work but also the medium he'd chosen to inform people about it.
"I was very excited," says Choudhary, a bright young woman with an inquisitive mind who had distinguished herself as a performance artist while attending high school. "I started watching a lot of the archived TED talks."
By the time she returned to her native Mumbai at the end of the summer, she was determined to find a way to become involved with TED. Two years would pass, however, before she created that opportunity for herself at Trinity.
DECIDEDLY DETERMINED
The hugely popular TED conferences, patterned after an initial one-of-a-kind event in 1984, are an ongoing set of global conferences that have been produced since 1990. The name is derived from the emphasis of the original conferences: technology, entertainment, and design. Their focus, however, has long since been expanded to include a wide range of scientific, cultural, and academic subjects. Since the programs are archived, they are accessible by anyone with a computer and Internet access. And they have been viewed more than a billion times.
TEDx, a spinoff, was launched in 2009. TEDx programs are independent TED-like events, sanctioned by the TED organization, that can be produced by anyone who obtains a free license from TED.
When Choudhary arrived at Trinity in the fall of 2014, she was very excited about coming to the United States and taking advantage of the opportunity to attend the school that, of the 10 she explored, had most attracted her. She was determined to do something with her education that would compel her to step outside her comfort zone and take some significant risks right away, at the start of her undergraduate experience. It was upon that ground that she decided now was the time for her to engage with TED.
One day in October, "I read the TED website and the rules and regulations for applying for a license," she recalls. "I didn't have a theme for the program in mind. I was just determined to do it." A few days later, she threw caution to the wind, filled out an application, and sent it in.
THINK AND "RETHINK"
Weeks passed. And then, over the Thanksgiving weekend, she heard from TED. Her application had been approved. Suddenly, she says, "The reality of what I had done sank in. I had a license from TED, and I had to create a program."
One thing was immediately clear. She couldn't do it by herself. So she took to Trinity's social media networks to recruit fellow students to help her create, organize, and promote the program.
Almost immediately students began submitting applications. When Choudhary returned to India at the end of the first semester, she took the applications with her. By the time she returned to Hartford, she had identified many of the committee members of what would be called TEDxTrinityCollege. The team would ultimately include Sherisa Abbaspour '18; McArdle Family Scholar Dayana Aleksandrova '15; Jill G. and Peter S. Kraus '74 Presidential Scholar Eleanor Clerc '17; Joy Tomlinson '79, P'13 Scholar Ursula Granirer '17; Carolyn Kimmick '15; Taylor Ogan '18; Lorenzo Puopolo '18; Gio Quattrochi '16; and Nick Recka '17.
Each brought varied skills and goals to the project. Quattrochi, a psychology major who had developed his communications skills through his work for the College's Communications Office, joined because the project offered "an excellent opportunity to further an understanding of what it takes to run an event like this, technically." Clerc, a biology major with a strong interest in social media, saw TED as "a special opportunity to distinguish Trinity and get more students and the Hartford community involved with the College."
It was Ogan who suggested the theme of the program – "Rethink." Choudhary and her team began reaching out to friends and professors for suggestions of possible speakers who could offer brief, compelling talks about new paradigms for a variety of subjects.
By March they had a final list of speakers, including a Trinity professor and a successful alumna. With the clock ticking, they settled on Saturday, April 18, and poured their energies into the myriad details, from finding a venue to promoting the program, that are essential to the success of any event.
LEARNING OPPORTUNITIES
A good-sized crowd showed up at Trinity's Vernon Social on the day of the event. They were not disappointed. The speakers were informative and engaging, and they covered eclectic territory.
But there were a few minor hiccups. The date chosen for Trinity's first TEDx event turned out to be a meteorological marvel, the first truly nice day after a brutal winter that set records for snowfall and cold temperatures. When an intermission ran a bit long, that beautiful weather conspired to lure attendees away. Choudhary's team also ran into issues with one of the most predictable special-events gremlins, audiovisual problems.
But TEDx is, by definition, a learning opportunity. One of the ways in which learning takes place is through the development and execution of the program. And beyond a postmortem analysis of how they could learn from those mistakes, all eyes quickly focused on the future.
"Producing this event was both scary and thrilling," says Choudhary. "We learned a lot from doing it, and we're determined to produce a new TEDx event in 2016." She expects to convene a meeting of the team as early as possible in the fall semester, with a goal of mounting a new production in February.
That eye to the future doesn't surprise Laura Whittemore, Trinity's director of student activities, involvement, and leadership (S.A.I.L.). "Bhumika worked tirelessly on this event, despite a full course load, the challenges of being so far away from home and her family's support network, and being a first-year student," Whittemore says. "It was a pleasure having the opportunity to get to work with her one-on-one during the planning process and being able to support all the student planners the day of their event, as well as being able to see Vernon Social utilized as the event location in such a unique way. Her drive to make this event successful, despite having no funding at the start, was inspiring to me as very rarely do we see such passion and commitment in first-year students.
"I think that this has started a wonderful and exciting tradition for Trinity College, and I know that Bhumika and the students involved in this event will continue to build upon the success of this program to bring TEDx to a higher level in the coming years."
View pictures from Trinity TEDx Trincoll on flickr.
 A GREAT INAUGURAL EVENT
"I was honored to be part of this first TEDx event at Trinity," says Dan Román, associate professor of music at Trinity. "I've been following TED talks for a while, and I was really excited to learn that Trinity was establishing its own TEDx community."
Román's presentation, "Rethink the Abyss," explored ideas he'd been developing during the past years concerning how "contemporary music appears to be entering a new era in which the classical and the popular, the modern and the traditional engage in a powerful and flexible dialogue."
The event was kicked off by Trinity alumna Nell Gibbon Daly '98, a successful New York-based psychotherapist who talked about rethinking the "Power of Intimacy." Daly described her work with patients suffering from depression and anxiety and talked about how those who were able to become comfortable with the "uncomfortableness" and unpredictability of life often were happiest.
Other speakers were Hartford resident Joshua Michtom, an assistant public defender, who talked about rethinking neighborhoods as a way to address a host of civic problems; Harvard Lecturer Aaron Pascal Mauck, a historian of science who spoke about rethinking therapeutics; Sandra Lopez-Leon, M.D., a scientist, author, and visual artist who explored the nutritional fallacies inherent in the adage "an apple a day keeps the doctor away;" and Timothy Patrick McCarthy, director of the Sexuality, Gender, and Human Rights Program at the Carr Center for Human Rights Policy at the Harvard Kennedy School, who talked about how apparent progress in human rights often masks lack of progress in other aspects of the same human rights issues.
"I feel this was a great first event, and I want to congratulate the directors, organizers, and staff who made this possible," says Román. "I'm looking forward to more TEDx talks at Trinity."