By Rhea Hirshman
Susan Thomas Schlett '84 remembers excellent support from Trinity's faculty and administration for her decision to study engineering. But, as the only woman in her graduating class to obtain an engineering degree, she also remembers feeling isolated from her male classmates. During her 15 years as a mechanical test engineer for Sikorsky Aircraft, she noticed how the company consistently lost female engineers because of its insistence on a 40-hour week. "And then," she says, "there were the posters inviting employees to 'bring your wife' to this or that event."
When it comes to gender disparities, all STEM (science, technology, engineering, math) fields are not created equal. Even as women continue to challenge old assumptions, engineering remains one of the most male dominated. While math, chemistry, and biology attract a substantial proportion of female undergraduate majors, the National Science Board reports that, in 2012, women received just 18 percent of undergraduate engineering degrees and 19 percent of undergraduate physics degrees.
In addition, some STEM majors have seen a decline in the number of women. According to the National Center for Women and Information Technology, while women in the United States earned 37 percent of bachelor's degrees in computer and information sciences in 1985, that proportion has dropped steadily, down to 18 percent in 2012.
Similar patterns appear in the workforce. While about half of those working in the life sciences are women, a 2015 American Association of University Women (AAUW) study reports that "women made up just 26 percent of computing professionals in 2013, a substantially smaller portion than 25 years ago and about the same percentage as in 1960. … (Women were) just 12 percent of working engineers in 2013."
Madalene Spezialetti, associate professor of computer science, knows firsthand about the declining number of women in her field. She notes that when she was an undergraduate in the early 1980s, there were almost as many female as male students in her major. "My students are always startled when I tell them that," Spezialetti says. "They want to know, 'What happened?' "
Spezialetti suggests that the larger proportion of women in computer science early on may have reflected the fact that, in such a new discipline, stereotypes had not yet become entrenched. The AAUW report says that hiring practices for computer jobs began to favor men and that "the creation of professional organizations, networks, and hierarchies that encouraged and facilitated the entry of men" helped to push women out. The study also notes that "women in engineering and computing fields often report isolation, a lack of voice, and a lack of support." They are more likely than men to leave their jobs altogether.
SCIENCE IS A TEAM SPORT
Addressing factors that keep women out of STEM fields is not a matter simply of fairness. The gendering of science and technology as "male" affects research itself, and lack of diversity means a loss of talent vital for the health and integrity of the science workforce.
As noted by Gendered Innovations, a project housed at Stanford University: "Thirty years of research have revealed that sex and gender bias is socially harmful and expensive." For example, "In basic research, failing to use appropriate samples of male and female cells, tissues, and animals yields faulty results," the project notes. "In city planning, not collecting data on caregiving [done primarily by women] leads to inefficient transportation systems. … It is crucially important to understand how [gender bias] operates in science and technology."
Sue Kemalian '99, who chairs the Math Department at Noble and Greenough School, an independent school in Massachusetts, says we have to move past the idea that scientists are "brilliant, lonely hermits making discoveries on their own – the 'great man' model. The reality," she says, "is that most problems are solved through sharing ideas; examining a problem through the lenses of different backgrounds and experiences can be the key to solving it."
Spezialetti adds, "Teams, not individuals, conduct most of today's science and technology research. Diversity and collaboration matter because science and technology issues affect everyone."
WHAT'S HAPPENING AT TRINITY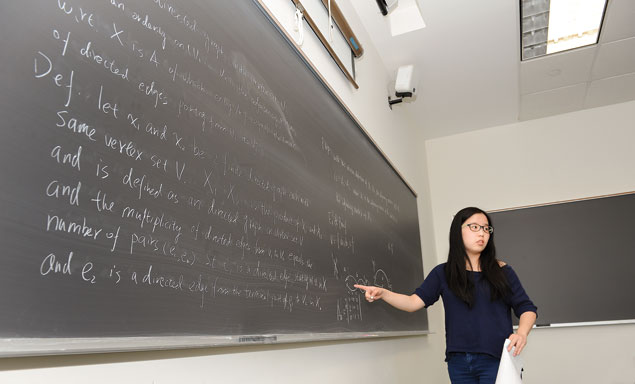 While Trinity's statistics mirror national averages for undergraduate STEM majors overall, the College produces more female engineering majors than the national average (23 percent versus 18 percent). In other STEM fields for Trinity's 2012-2015 graduating classes, women have been 62 percent of biology majors, 21 percent of computer science majors, and 13 percent of physics majors.
Trinity has strong science programs, including a nationally accredited engineering program – rare for a liberal arts college – and a neuroscience program celebrating its 25th anniversary this year. Alison Draper, lecturer in interdisciplinary science and director of Trinity's Science Center, notes that even more could be done to encourage women's interest in STEM, perhaps in the form of additional programming and more specific mentoring and peer-support programs. "What matters to me," she says, "is making all our systems work so that any student who wants to pursue STEM has the support needed to make that choice."
Draper says that introductory classes in biology, calculus, and chemistry have adopted supplemental instruction – an academic support program designed to improve academic success with study sessions led by trained upper-year students. "Each person is different, but women tend to bring a different skill set," Draper says. "We've found that when we use group work and study sessions that enhance social ties, we get especially positive responses from female students."
Increasing emphasis on collaboration is now a major focus in physics education, says Brett Barwick, assistant professor of physics. "Rethinking how physics is taught," he says, "has become so important that we have Nobel Prize winners doing physics education research." Instead of the traditional three weekly lectures plus a lab, an introductory course Barwick teaches now uses an interactive format emphasizing group problem solving, hands-on experimentation, and data analysis. "Research shows that this style of teaching and learning increases satisfaction and success for women and minority students."
EARLY ENGAGEMENT
Another component of opening STEM fields to women is engaging girls before they enter college. Pauline Lake '13, who majored in computer science and educational studies, says, "We want to ensure that young girls are not turned off by old ideas about what a computer scientist is 'supposed to' look like."
Lake currently works with Ralph Morelli, professor of computer science, as a teaching consultant on the Mobile CSP (Computer Science Principles) project. Funded by a National Science Foundation grant and headed by Morelli, the project trains Connecticut educators to teach CSP as an Advanced Placement-level course and aims to bring more girls and minority group members into computer science.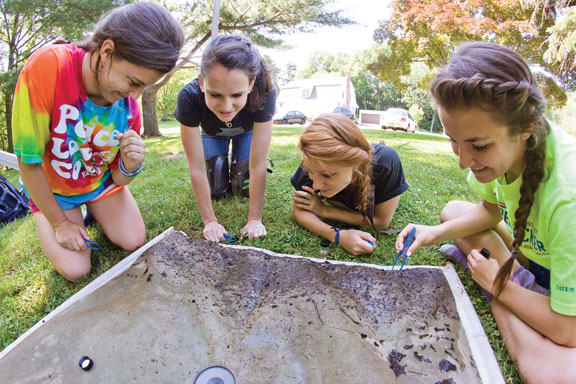 Trinity also hosts a variety of science, tech, and computer-related events for middle and high school students, including this past May's Tech Savvy. The daylong conference, sponsored by the Connecticut chapter of AAUW and chaired by Trinity alumna Donna Haghighat '89, brought 85 middle school girls to campus for workshops, mock college and career interviews, and skill-building sessions – and included sessions for parents. Draper played an instrumental role in planning the College's participation in the event, during which a video created by Donald L. McLagan Presidential Scholar Erin Barney '15 and Haley Baldwin '16 – Yes She Can: Girls in STEM – was featured. Trinity President Joanne Berger-Sweeney opened the conference, sharing her own personal journey from being a girl who loved science to becoming a professional who performed breakthrough pharmaceutical research.
Programs such as these help to bring girls together as they explore STEM fields. Barney, who was a co-valedictorian and majored in engineering and psychology, notes, "Girls who might be interested in STEM sometimes feel like their friends don't understand them. They need opportunities to meet each other and to talk to people who can be role models."