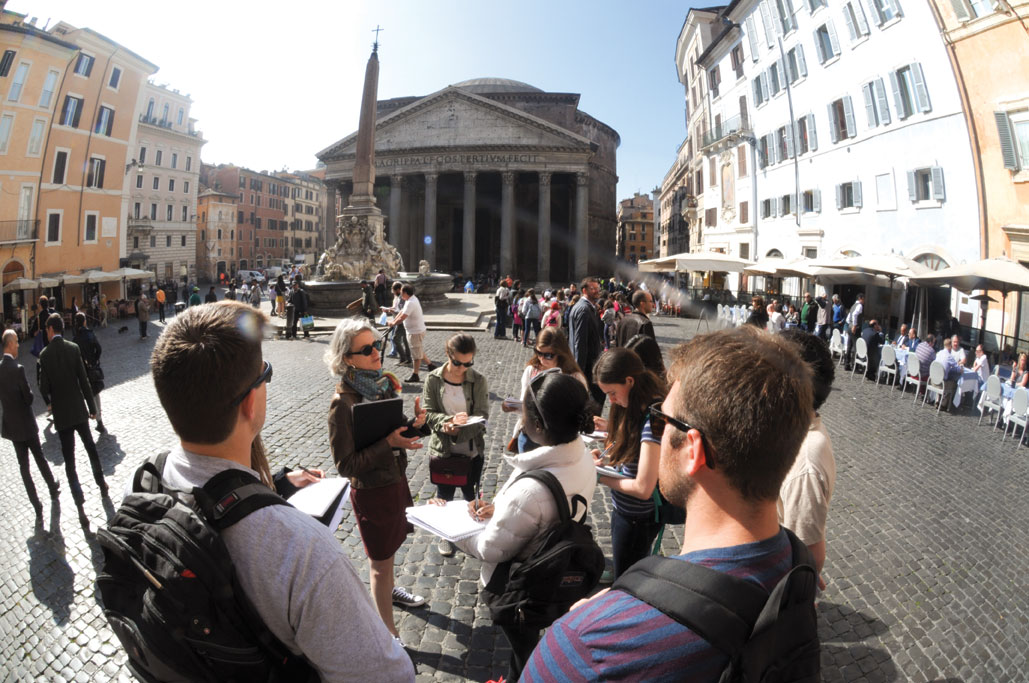 Trinity campus celebrates 45 years
By Michael Raciti
Photos by Mauro Margutti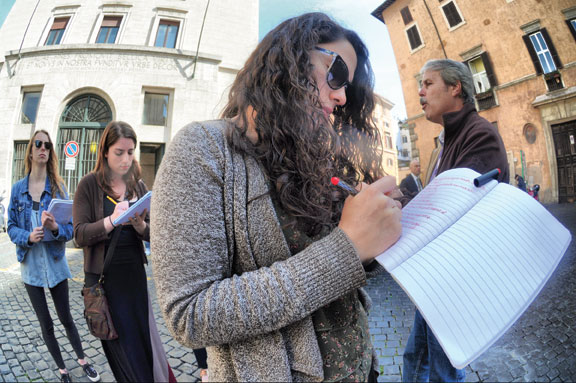 Livio Pestilli recalls many of the roughly 5,000 alumni who have studied at Trinity College's Rome Campus throughout the years as if they were members of his own family. After all, Pestilli has directed the program for more than half of his life – 36 years. The only thing that has been there longer – other than the historic buildings – is the program itself, now in its 45th year. It is Trinity's oldest and most established study-away program.
"They [the alumni] write back very often saying what a wonderful time they had and how it changed their lives," says Pestilli, an art historian who teaches at the program, which he has directed since 1979. "The most fulfilling thing for us is the feeling of having edified someone professionally, or perhaps even morally, so I feel quite elated when I hear students tell me how much this program has meant to them. It's the gratitude that the students express that makes the job really worthwhile."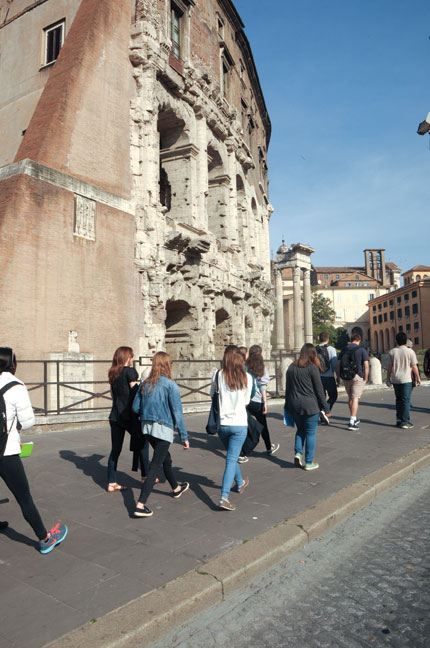 Monica DiFiori '16 says the experience was eye-opening. "Every time you turn a corner, you are looking at so much incredible history," she said from the Rome Campus this spring. "This is something that I will take with me for the rest of my life."
Generations of Trinity students have benefited from the unique experience, but the program extends beyond Trinity students and is offered to those from other colleges around the United States.
"Being in a city with so much history, so many amazing people, a beautiful language, great food – it's just been really life changing," said Virginia Midkiff, a student at Princeton University who also studied at the Rome Campus this spring. "I'm just really, really grateful to this program."
Much like the city of Rome, the history of the Rome Campus is its strength and the key to the educational experience for the students who study on the Aventine Hill campus, which overlooks some of the world's most renowned historical landmarks in the heart of Italy's capital.
"Rome is an outdoor museum," says Francesco Lombardi, assistant to the program. "It is an outstanding display of beauty and history. The teaching opportunities are boundless."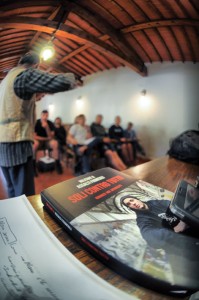 Each semester, a Trinity professor from Hartford teaches on the Rome Campus. Tom Harrington, professor of language and culture studies at Trinity, taught in Rome in spring 2015. Harrington, as the founder and faculty director of the Trinity-in-Barcelona program, has a unique perspective.
"I've been particularly impressed with my colleagues here, with the way that they use the city in their teaching," says Harrington. "To see and learn from another program that is so well established, with such a capable leadership staff, has been invaluable for me. I get to see how the masters do it."
The Rome Campus was founded in 1970 by Michael Campo '48, John J. McCook Professor of Modern Languages, Emeritus. "It's very fulfilling for us to know how many people have benefited from this program," says Inez Campo on behalf of herself and her husband, who reside in West Hartford. "We've often heard from former students describing the beautiful experiences they had in Rome."
The Campos spent as much time in Rome as they have in the United States, with Michael Campo transforming the Rome Campus into a top study-away destination. Daughter Francesca Campo '82, who first traveled to Rome at age 10, says, "I always knew that I'd study at the program. It's in my blood. I know Rome as well as I know West Hartford, where I grew up, so for me, it's like home."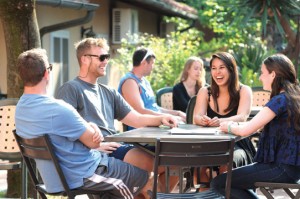 The Rome Campus academic program is challenging but highly engaging for students. Each day includes a full schedule of classes, which are held in one of three intimate classrooms (the red room, the yellow room, or the white room) or in a centrally located outdoor courtyard. English is rarely spoken in Italian-language courses, which accelerates students' understanding of the nuances of the language.
"They keep you busy, but they guide you, and you're never really left alone," Stephen Falcigno '16 says. "I've learned so much in my time here."
The professors, particularly art history teachers, regularly take students on walking tours near campus to learn firsthand about some of the world's significant art and architecture. The semester also features weekend-long excursions where students are exposed to surrounding cities.
"My favorite class, 'The City of Rome,' was a walking tour every week around the city covering almost all of Rome's history," says Samantha Jones '15, who studied at the Rome Campus in spring 2014 and whose mother, Lisa Marinello Jones '84, also studied in the program during her college days. "The city itself was our textbook, and that was a really unique experience."
While the history and the art and architecture run deep, the food also lives up to its reputation as some of the most delicious in the world. Fresh pasta, gelato, seafood, cappuccino, made-from-scratch breads, and fresh-squeezed orange juice are among the daily staples. At the Rome Campus, the food is of importance to the overall experience. Chefs cook breakfast and lunch each weekday for the students, who dine together, family style, in a room at a nun's convent, where the campus is housed. In addition, students are provided meal tickets for various restaurants in the area, each as delicious as the last.
Off-campus kitchens also provide learning opportunities. Madeleine Kim '16 and Bucknell University student Nikolas Venuto interned at a local cooking school, working with a chef and practicing new recipes. "We learned to cook; we met so many new people," says Kim.
The cooking school is one of many options in the Rome Campus's robust internship program. Posse Scholar Keyla Inoa '16 completed an internship at an international law firm, and Emily Bono from Tufts University interned at Case Romane del Celio, an underground archaeology site, working among centuries-old ruins. Paul Grant, a student from Grinnell College, and Falcigno held internships teaching at local high schools.
"We ask students to go out of their comfort zone and to face, personally, the Italian culture," says Elena Fossà, principal lecturer in Italian and Rome Campus internship coordinator who has taught in the program for nearly 25 years. "We place students in safe, comfortable, yet challenging positions where they can create a new perspective. It is an opportunity for a wonderful human exchange in a strong academic environment."
Danny Meyer '80, one of New York City's well-known restaurateurs, credits his internship experience in Rome as a major influence in his life's path. He interned with the Food and Agriculture Organization of the United Nations, which largely inspired him to be involved in hunger-alleviation groups, including Share Our Strength, for which he has served as a board member since 1992. His internship and exposure to the Roman culture also affected his entrepreneurial pursuits.
"From the very first restaurant I opened – Union Square Cafe – to some of the more recent – Maialino and Marta," Meyer says, "my experiences in Rome have played an essential role in the culinary point of view and the spirit of hospitality we try to convey to our guests. In short, the experience was priceless."
Lombardi says that in addition to internships, the Rome Campus offers opportunities for students to join competitive sports teams and to travel throughout Europe. "Apart from the sheer possibility for our students to pursue their sports while abroad, being able to practice them with locals of more or less the same age and who share the same interest, it turns out to be for them an amazing opportunity to connect with the city," says Lombardi. "Many of the students undergo a transformation here because the experience is not one that can be learned in a book or online. It can only be learned by being here, feeling it, seeing it, tasting it."
Pestilli says this immersion in a new culture is the greatest thing the program can offer to a student's educational experience abroad and in life.
"The best thing we can do is teach them that otherness is something you ought to embrace," he says. "To do that, you must make yourself vulnerable and put yourself in situations where you are not in charge linguistically or culturally. This makes our students more prepared to meet the challenges of the 21st century."
Pestilli adds that he is proud of his association with the program and with Trinity College. "My wish for Trinity," Pestilli says, "is for this program to flourish for another 45 years, that it remain a wonderful place and that it remain a wonderful family."
For more information, visit the Trinity College Rome Campus website.

 EXPLORING THE WORLD
VIA TRINITY'S OWN PROGRAMS

A leading institution in study away, the College offers eight distinctive Trinity-run international program sites, located in Barcelona, Buenos Aires, Cape Town, Paris, Rome, Shanghai, Trinidad, and Vienna, in addition to a site in New York City. The programs, developed by Trinity faculty and closely linked to the Trinity curriculum, provide rigorous academic offerings for students in all disciplines. The College also offers a variety of summer study-away options, including faculty-led programs in Rome, Barcelona, Asia, and more. Students also may select from 90 approved study-away programs throughout the world. Approximately 60 percent of students study away at some point prior to graduation. For more information on Trinity's study-away programs, please visit www.trincoll.edu/studyaway.