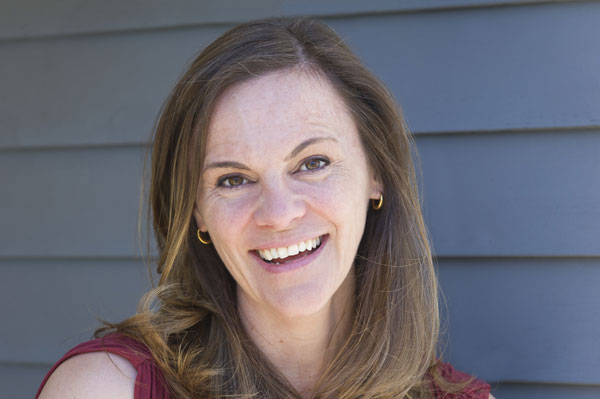 DEGREES: B.A. in women's studies; M.A. in American studies
JOB TITLE: Executive director, Creative Education Foundation
FAVORITE TRINITY MEMORY: When I was inducted into Phi Beta Kappa, the room was packed with classmates and their families. I was alone. Across the room I saw my professor, Barbara Sicherman. I worked my way through the crowd and said, "Barbara! It is so good to see you! Who are you here for?" She gave me a puzzled look and said, "I am here for you, Beth."
What is the Creative Education Foundation?
The Creative Education Foundation (CEF) is recognized worldwide as one of the foremost authorities on creativity and innovation. Alex Osborn, one of the original advertising "Mad Men" who invented "brainstorming," established CEF in 1954. Alex partnered with academic Sidney Parnes to develop the Creative Problem Solving process (CPS). CPS unlocks creativity, fosters collaboration, and ignites innovative solutions.

What do you do in your role there?
CEF is entering a new inflection, and my work there allows me to tap my teaching and nonprofit management expertise. I am using expertise to develop new messaging, to increase funding support, and to improve programs. So far, I have created a sponsorship structure for our premiere event, the Creative Problem Solving Institute, a five-day creativity conference. This year, we launched the Sidney J. Parnes Global Fellowship and accepted fellows from Pakistan, South Africa, Nigeria, and the United States. Additionally, we are helping Georgetown High School in Massachusetts create a 10-week unit that will culminate in a Creativity Showcase. CEF also publishes the Journal of Creative Behavior, the longest running academic journal on creativity.

What do you enjoy most about your work?
As one of my stakeholders says, "It's creativity, man!" I have Play-Doh, Faber Castell Creativity Cans, and Legos as work tools. I work with people devoted to creating safe spaces within which people can explore, fail, embrace failure, and develop and share ideas. I work with a process that changes how people see themselves and how they see problems. Deliberate creativity can, and must, be applied to our most critical social issues. I get to steward this process for CEF, to the best of my ability. It is awesome and humbling.
How did your time at Trinity affect your career choice?
I finished my degree at Trinity at age 31, after moving into a first-year dormitory (Jones) as an academic mentor. Safe to say I was the only senior who was handling her own divorce after leaving a bad marriage with a man upon whom she was financially dependent. I worked at the Writing Center and wrote for The Women's Center and The Tripod, which led to an M.A. fellowship to create a graduate writing support program, which led to teaching at Trinity. I also got a call from the Development Office requesting help with a Kellogg Foundation grant. These opportunities brought me to my careers in teaching and nonprofit development and management. Trinity taught me how to think, to believe in myself, and to be nimble and courageous.
What was the most memorable course you took at Trinity? Why?
My women's studies "Senior Seminar" class with Barbara Sicherman. I have never felt more capable, challenged, or supported in my life than I did in that class. I did some of my best writing and worked with the most amazing women. My paper on Prudence Crandall written in that class won me a few awards at Trinity and is now being turned into a play.
Would you tell us a bit about your project on Prudence Crandall?
Joan Hedrick introduced me to Prudence Crandall in my very first class at Trinity, "Women's Studies 101." In 1833, Prudence admitted Sarah Harris to her school – Sarah was black. The town was outraged and threatened to shut her down. Instead, Prudence released her white students and admitted only "young misses of color." The year was 1833, 30 years before the Civil War. Court cases ensued, and had the case progressed, it could have called into question blacks' rights as citizens and the legality of slavery. In the end, a mob smashed out the first floor of the academy, and Prudence disbanded her school. Years later, a journalist wrote a story about her living in poverty in Kansas, and Mark Twain helped secure a stipend for her from the Connecticut State Legislature to live out her remaining years in comfort. Two years ago, I met a playwright who has converted "Prudence" into a play. We have had a couple of readings in Boston and hope to get it on stage soon.