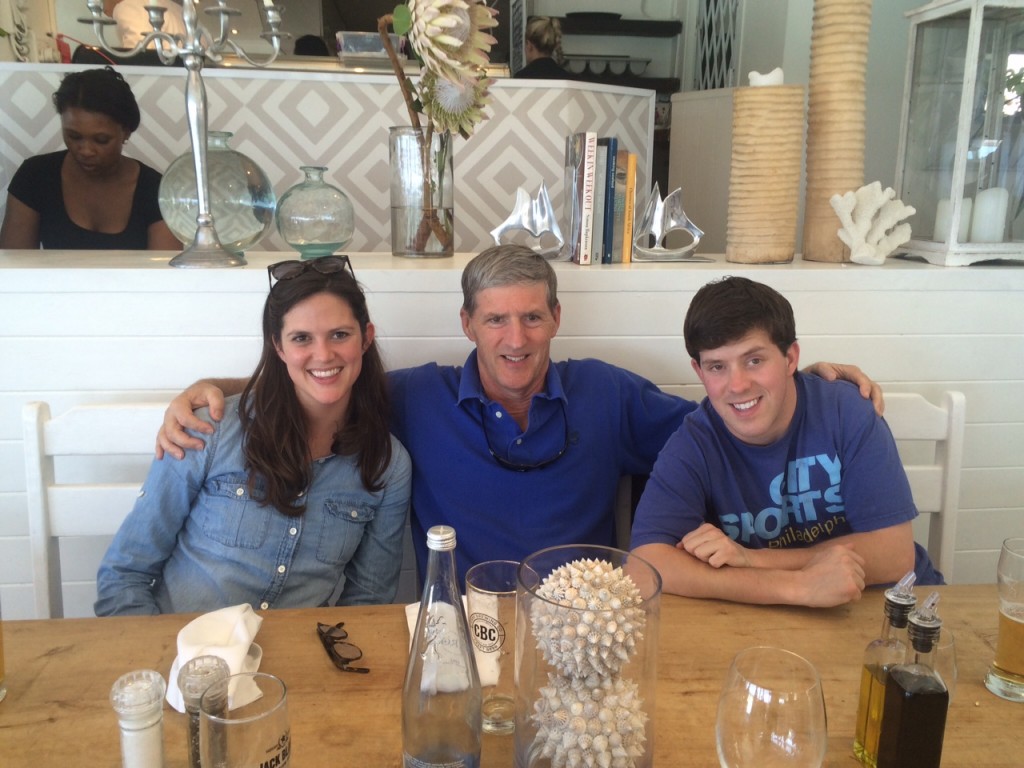 DEGREES: B.A. in religion; M.Ed., Harvard University
JOB TITLE: Head of school, American Community School of Beirut
FAVORITE TRINITY MEMORY: My best memory would be spending second semester senior year with Philosophy Department Chair Drew Hyland; his wife, Ann; their two boys; and 16 other Trinity students on "Skiing and Being." We skied every day and had philosophy seminars three nights a week – true experiential learning!
Why did you major in religion?
I decided on religion not with any particular thoughts about the ministry or divinity school but because it was a small department with excellent teachers including Ted Mauch, John Gettier, and Frank Kirkpatrick. During the course of my career, I have taught ethics and the history of religion in America, and I appreciate the patience and the wisdom and the fine example of my teachers at Trinity.
What drew you to Lebanon?
We were drawn to Lebanon because of the challenge, because of the opportunity to continue to learn and grow, and because of the mission of the school. In a complicated part of the world where most children learn by rote, here at ACS I lead a school of 1,000 students that is focused on teaching critical thinking and on helping students to develop their own voices. We enroll Christians, Druze, Shias, and Sunnis, and we teach them to learn and play and work together in hopes that they can end the cycle of sectarian strife that continues to plague this region. The school has been doing great work for 110 years, and Beirut is a fascinating city. Despite what you read and see on CNN, we have never felt that our personal safety was in danger, and we have loved being in a dynamic city right on the Mediterranean where East truly does meet West.
How is this position different from similar positions you have held in the United States?
I have had the rewarding experience of serving as the head of Sewickley Academy in Pittsburgh and Episcopal Academy in Philadelphia for 26 years, two excellent independent schools, but my wife Ceci and I had always wanted to move back overseas after a wonderful year working at the international school in Zurich, Switzerland, many moons ago. In my many years in schools, I have always most enjoyed working with students and families, and that continues in Beirut. The families here genuinely appreciate the opportunity to send their children to a stable and child-centered school, and for the most part they leave the education to the educators. Both in Zurich and now in Beirut, I have experienced a much greater sense of respect for those of us who work in education than I ever felt at home. Our students are ambitious, they have a seriousness of purpose, most of them can converse in three different languages, and they have a better understanding of international issues than their American contemporaries, perhaps because they have been living them!
What do you enjoy most about living in Beirut?
We have loved learning about Lebanon, have been all over the country, and also have taken every opportunity to travel abroad. In the 20 months that we have been here, we have attended conferences and traveled to Turkey, the UAE, Jordan, Oman, Nepal, Greece, Italy, Switzerland, France, Portugal, Ireland, and South Africa.
How did your experience at Trinity help prepare you for what you do now?
Attending Trinity during the turbulent period between 1968 and 1972 – starting out with all required classes and parietals at an all-male college, experiencing the welcome addition of women and coeducation in my first year, going on strike following the massacre at Kent State and the Cambodian Invasion, attending lectures from most of the Chicago Seven and many Black Panthers, and participating in the March on Washington – gave me a yen to continue to learn and experience different people and cultures and to not settle into a steady routine. I am not sure that those of us at Trinity during my era got all the "book learning" that students in other years received, but we had incredible experiences outside of class, and I am grateful to the College for adapting so quickly and for being willing to try new approaches. I remember Trinity President Ted Lockwood coming to meet with our Northam Fine Arts Society in our dorm rooms in Northam Towers and being willing to listen to our idealism and our hopes for the future. I loved my years at Trinity, many of my best friends are those I made at Trinity, and I am always eager to return and to wax nostalgic about those exciting days.