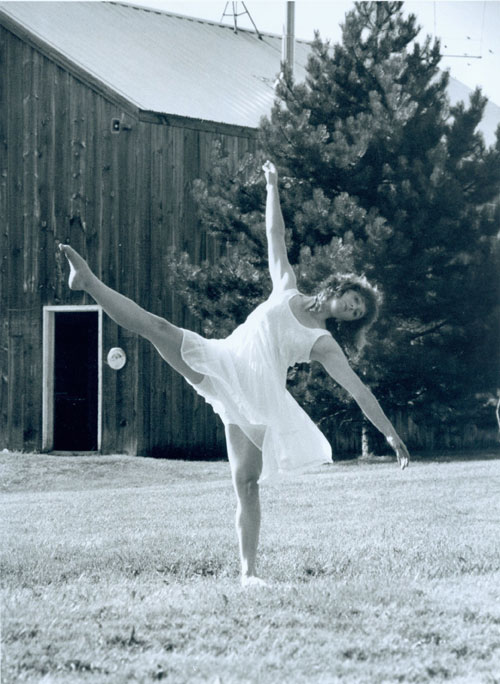 DEGREE: B.A. in theater and dance

JOB TITLE: Artistic director, Sonia Plumb Dance Company; artist instructor at the Greater Hartford Academy of the Arts
FAVORITE TRINITY MEMORY: Meeting my husband while in stage combat class. My roommate Gretchen said there was this guy in her Shakespeare class I should meet. Shakespeare & Company was visiting doing workshops, and Gretchen basically set us up to meet at one of the workshops. We learned how to punch, slap, and pull hair without hurting each other. It comes in handy, and it makes a really good story.
What motivated you to form your own dance company?
After graduating from Trinity, I ended up settling down in Hartford, taking classes and looking for opportunities to perform and choreograph. Trinity had evening classes at the time, so I was able to keep up my technique and my connections with the College. A couple of years later, my work was accepted into a Dance Services Network showcase in Hartford. Shortly thereafter I decided it was time to start a company, incorporate, and go nonprofit. I wanted to be my own boss. To find out more about Sonia Plumb Dance Company, visit www.SoniaPlumbDance.org.
What educational programs does your company offer?
Our educational programs connect classroom curriculum to dance, integrating Common Core State Standards in both science and literature with movement for grades K-12. We go into school classrooms for one-day, two-day, and weeklong residencies. The classes usually last an hour. The science- based workshops focus on the science of water. Depending on grade level, students will learn about the water cycle, water molecules, water properties, erosion, and our human relationship to water, including climate change and water availability. The literature-based program is related to the study of Homer's The Odyssey and Greek mythology. The lessons focus on Poseidon, Odysseus, character development, and the stories of the sirens and the lotus-eaters, among others. We look at the epic hero model.
What has been your favorite performance with your dance company?
Hard to say – I love all my dances. My favorite piece of choreography changes and is usually the one I am working on at the time because it is new and exciting. I am currently working on The Odyssey that will premiere in October, so that is my favorite choreography right now. I also enjoyed dancing Chain Reaction. I played an exotic bird that was captured by a wealthy businessman. I was taken from my flock and my partner. The costumes were hand painted by Ayanna Spears. My mom still remembers the piece and wants to know what happened to the bird. I think I have to choreograph a sequel.
What was your favorite performance while you were at Trinity?
My favorite performance was for the Trinity Medieval Festival. We got to wear masks and dance outside. We were on the cover of The Trinity Reporter.
How did your time at Trinity affect your career choice?
I chose Trinity precisely because it had a dance/theater major, and I could try my hand at it while also getting a liberal arts education. The curriculum included technique classes, composition, kinesiology, and then things like acting and lighting design. Having all those options greatly contributed to my work as an artist. Each class pulled me further and further into wanting to be a creator and choreographer. The seeing, doing, and reflecting enhanced my skills and visions. I was able to teach and create and perform. The multiple opportunities in a small, focused setting gave me opportunities I never would have had otherwise.
Was there a professor who was particularly influential?
There were many teachers who influenced my creative growth and skills. Besides my main teachers who opened up my eyes to dance (Judy Dworin, Nusha Martynuk) I had other teachers who taught me just as much. Brian Rieger taught lighting, and his approach was all about seeing the light and shadows and colors of shadows. I still have my drawings and lighting designs. Ron Jenkins was a guest professor from Bali, and I learned acting and juggling. I later met Adjunct Professor Douglas Boulivar, who came to Trinity after I graduated but with whom I studied and worked for more than 10 years.