Mazin Khalil '15 and the story of SWAGG
By Lori Ferguson
"It takes a village to raise a child." These days, many view the phrase with a jaundiced eye. But for Mazin Khalil '15, the sentiment remains a touchstone.
The son of a first-generation immigrant from a village in the northeast African nation of Sudan, Khalil arrived in Brooklyn, New York, at age 5, unable to speak a word of English. Teachers and staff at P.S. 178 Saint Clair Mckelway embraced him, teaching him the language and helping him to find his way in his adopted country. And Khalil has never forgotten. Today a college graduate with his eyes on a career in medicine, Khalil is now helping to guide his own village: 43 young men who make up the Sophisticated Well-Articulate Gentlemen's Group (SWAGG).
Khalil started SWAGG in 2009 while a high school sophomore at Brooklyn College Academy (BCA). He had witnessed the camaraderie enjoyed by members of a girls-only group at BCA — Sisters Helping Each Other Attain Respect and Triumph! (SmHEARTgirls, pronounced "smart girls") — and wanted to provide an equal opportunity for fellowship among young men at the school. "I wanted to create an organization that fostered brotherhood and got young men off the streets and into positive activities such as community service," he says. Khalil approached SmHEARTgirls adviser Lynelle Rennis, an assistant principal and dean of students, with his idea, and she agreed to help him get the organization up and running.
In the beginning, Khalil and a group of nine friends gathered regularly to socialize and to discuss their problems. Rennis spoke with the boys, too, as did male role models from the community — lawyers, doctors, and other professionals — who shared their stories and offered guidance. Classmates Jude Bridgewater, now a senior at Howard University and SWAGG's current national president, and Kagame Li-A-Ping, a recent graduate of Hampton University and the current national treasurer, worked closely with Khalil to develop the organization, shouldering an increasing number of day-to-day responsibilities after he graduated and headed to college at Trinity. "Jude and Kagame fleshed out the group's structure in response to the needs of incoming members," explains Khalil, who has transitioned into the role of chapter adviser. "I came up with the idea for the group and made the initial inquiries about how to get it going, but I don't want all the credit for what SWAGG has become. It's a group effort."
Indeed, teamwork and collaboration constitute a recurring theme expressed by everyone affiliated with the organization. Modeled after a junior fraternity, SWAGG is dedicated to fostering brotherhood, promoting community service, and providing social and academic support to its members. The group meets weekly to discuss any topics that the boys might be struggling with, from proper attire and grooming to personal struggles and grades. Khalil believes strongly in the concept of paying it forward, so members regularly participate in fundraising initiatives as well, raising money for everything from diabetes to sickle cell disease. But success in academics is the top priority. The graduation rate for members of SWAGG is 100 percent, Khalil notes proudly, considerably higher than the 2014 rate of 58 percent for black males in New York City cited by a July 2015 story in The Hechinger Report. And SWAGG members are consistently graduating from BCA and going on to attend well-known colleges and universities around the country, including Howard, Hampton, New York University, Penn State, and Trinity, which Khalil attended on a Posse Foundation scholarship.
Khalil graduated from Trinity in 2015 with a B.A. in religion and is now back on campus pursuing a master's in public policy with a concentration in health policy; he plans to apply to medical school after finishing his degree. In the meantime, he continues to counsel current SWAGG members, albeit from afar, as they navigate the challenges of high school and prepare to attend college.
Khalil is deeply grateful for the education and experience he gained at Trinity, but he admits that his time there wasn't always easy. "It was academically rigorous and also tough socially, but it was the right place for me at the right time," he says. "My classes were small, so I got to know my professors one-on-one, which was great." Many of Trinity's student leaders and faculty and staff members provided guidance and support as well, and the 11 other Posse scholarship recipients came to be like family. "I can't fathom my college career without my Posse," says Khalil, mentioning in particular his Posse mentor, Associate Professor of Theater and Dance Lesley Farlow. "I wouldn't have made it through college without her advice, love, and guidance. She helped me and impacted me in ways for which I can never fully thank her."
Farlow was equally moved by her interactions with Khalil and feels confident that he will realize success in life, whatever path he travels. "Mazin is a wonderful person. He has great strength of character, and he's an innate optimist. He loves to engage with people, and he's willing to ask hard questions, of himself and of others. I know he will do well."
BCA Assistant Principal Shernell Thomas-Daley, who served as Khalil's high school guidance counselor, has also been very impressed by Khalil's heart and determination to give back. "Mazin is a sharer, and he's touching many lives. He has created a family with SWAGG — he's a source of strength for other boys, a ray of light and hope, a role model. He wasn't born with a silver spoon in his mouth, far from it. He has faced the same challenges that other members have, but he has succeeded in spite of them all, and he wants to help others do so as well."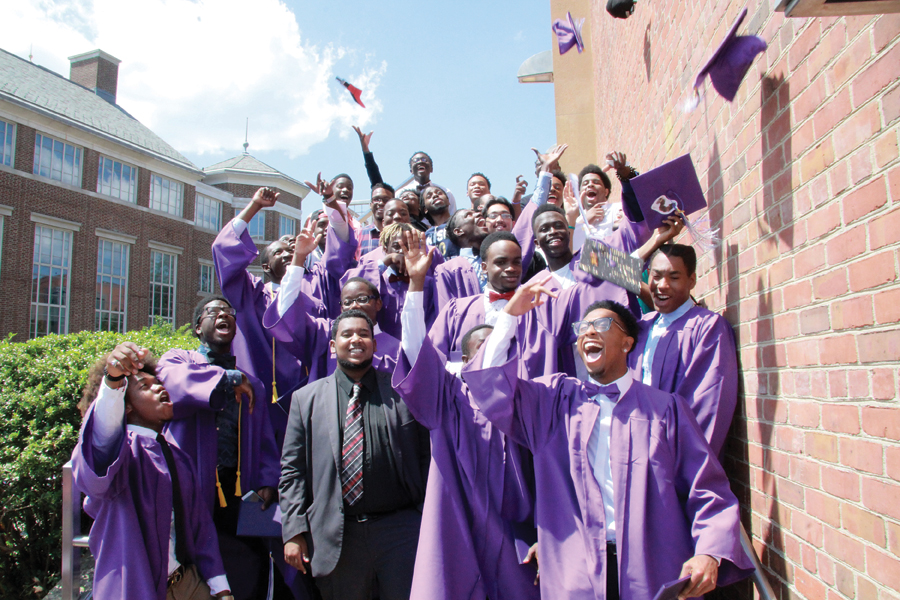 Truel Polite, who entered San Francisco's Academy of Art University after graduating from BCA, has experienced the transformative power of the SWAGG brotherhood firsthand and credits Khalil and other members with setting him on a new path. "I joined SWAGG in ninth grade after Ms. Thomas and Ms. Rennis encouraged me to look into it," Polite says. "Mazin and the other members became very influential male figures in my life. I was a troubled kid, and they helped me change my perspective by sharing their knowledge and setting an example."
Li-A-Ping agrees. "When you become a member of SWAGG, you become part of a brotherhood. Even after we graduate, we stay involved, mentoring incoming members and supporting our classmates. We're always there for each other."
Khalil is proactive, goal oriented, and relentlessly optimistic, concludes Thomas-Daley, yet he's also amazingly humble. "Mazin doesn't pretend to have all the answers, but he's always willing to listen. He's consistent, honest, positive, and nonjudgmental. He's there for the boys even if they screw up — and they do — but he always keeps the door open."
And the boys are responding. "The young men who participate in SWAGG aren't angry about some of the experiences that they have had as young men because they now have an outlet that always leaves them with hope; they're receptive and focused," says Thomas-Daley. "They have a mature male support system, and they're receiving truth from a credible source — it's made all the difference."