Jeff Kelter '76, P'18 ignites career development and urban studies programs with his philanthropy
By Julia S. Chianelli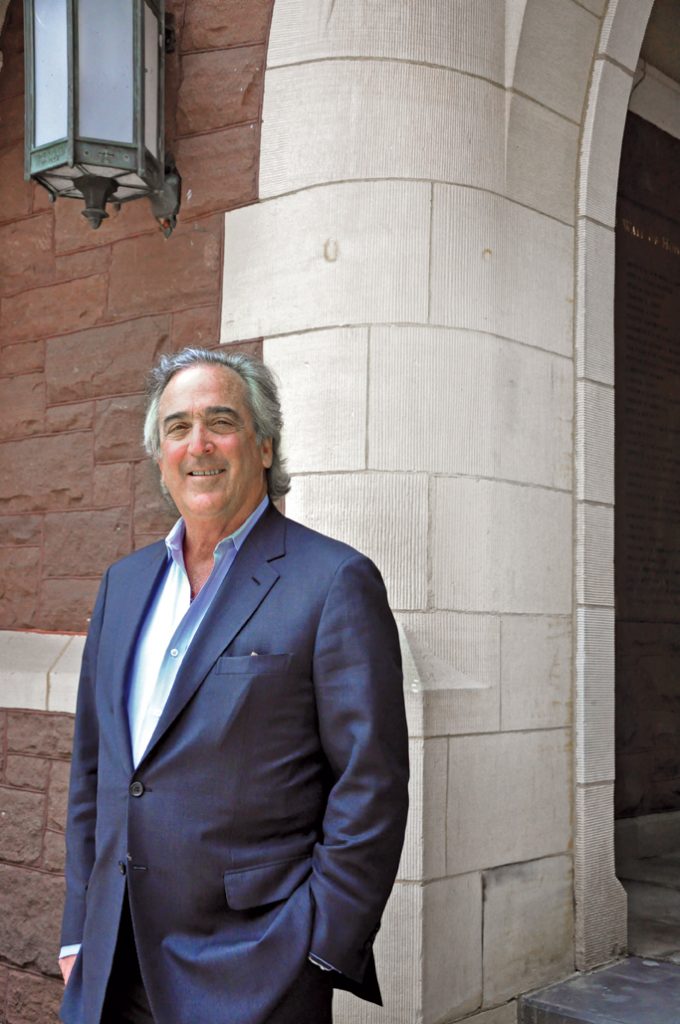 The early 1990s were a major turning point in the life of entrepreneur and philanthropist Jeff Kelter '76, P'18. The real estate bubble burst, and he personally owed more than $100 million on properties. "I experienced a very difficult three to four years when none of my properties had any equity value," recalls Kelter. "But I put my head down, worked through it, and got lucky — unlike many people."
Kelter credits this period as one that has shaped both his career and life the most. "I learned the value of what I was doing, and it turned out that I really liked it. I also learned the value of hard work. My career from that point on was on an upward trajectory."
Kelter is the former CEO and founding partner of KTR Capital Partners (KTR), a real estate private equity firm specializing in investing in commercial real estate. Kelter sold KTR, with headquarters in Manhattan and offices throughout the United States, in May 2015 and is currently starting a new venture.
Armed with a degree in urban studies, Kelter first worked as an analyst at Bankers Trust Company in New York City. Four years later, he accepted a position at an Oklahoma-based real estate firm. "I had a great job at a terrific company, but I wanted to do something more entrepreneurial, and so I did," he says. Since then, Kelter has been building businesses from the ground up. He says that he enjoys it as much as helping to set a strong foundation for Trinity students in his role as a member of the College's Board of Trustees.
A BLUEPRINT FOR SUCCESS
Kelter's philanthropy was instrumental when, in 2016, Trinity's Career Development Center (CDC) launched the Catalyst Leadership Corps, a program designed to provide first-year students with Hartford-based internships, leadership training, and opportunities to network with Hartford leaders, alumni, and parents in Connecticut's capital city. "The CDC effort is in its nascent form," says Kelter. "When I think about my philanthropy, I like to think about challenging the College to be better. It's very hard to challenge Trinity to have better faculty because they are already elite. In giving some money and raising the visibility of this effort, we can get alumni and parents involved, continue to raise capital around it, get alumni to return to campus to mentor students, and continue internship programs that we've embarked on."
Confident that students will reap many benefits from the Catalyst program, Kelter worked with CDC leadership to map out a plan that will make the CDC an integral part of the students' Trinity experience, starting in their first year. "Step one: I'd like students to start thinking about their lives a little bit," he says. "Step two: I'd like them to think about internships and do things that are not part of the curriculum or to participate in off-campus activities that are helpful to their growth and education. Step three: Teach them how to put it on paper, and give these students access to Trinity alumni mentors who will help them become productive citizens."
Kelter's philanthropic journey doesn't end there. This past spring, he established the Jeffrey E. Kelter Endowment in Urban and Global Studies, which will help fund a visiting postdoctoral fellow at the Center for Urban and Global Studies (CUGS) each year. The endowment also will allow an expansion of student majors and course selection, continuing the momentum in the program led by Xiangming Chen, dean and director of CUGS. "Trinity has a unique position as a great liberal arts college in a city," says Kelter. "When I studied urban studies, it was something that led me from an interest perspective into real estate. This is a newish discipline for us and is arguably one of the really important departments at Trinity. And it differentiates us. To be able to support this field in an urban environment was a no-brainer to me."
In addition to the Kelter Family Scholarship Fund, which was established in 2003 and provides financial assistance to need-based students from western Long Island, where he resides, Kelter also launched the Kelter Strategic Geographic Scholarship in 2016 to help attract students from the West Coast and beyond. He recognizes that with Vice President for Enrollment and Student Success Angel Pérez at the admissions helm, Trinity is ambitious about achieving greater selectivity and geographic diversity in the entering class, which made it very easy for him to support Pérez. "Offering to help six kids who don't live on the East Coast or didn't go to an elite boarding school to come to Hartford and experience a Trinity education is important," he says. "I have high hopes for them."
GREATEST ACCOMPLISHMENT
After Kelter's business acumen and tenacity helped him weather the economic storm in the '90s, he took the properties he owned and formed a real estate investment trust, which traded on the New York Stock Exchange as Keystone Property Trust. It went public in 1996, and in 2004, he sold it to a larger company. "It was a very successful enterprise and an industry-leading total return to shareholders," says Kelter. After the sale, he started KTR by taking 45 employees from Keystone with him. "We ended up raising three funds and several billion dollars in equity," he says. "It was a terrific 10 years. KTR was probably the second or third largest landlord of warehouses and industrial buildings in the U.S."
Kelter attributes his success partly to Trinity. "My well-rounded Trinity education allowed me to think on my feet and to speak and write well," he says. "The fundamental skills that were key to my success started here." Kelter has many fond memories of the College, where he was a member of St. Anthony Hall fraternity and the soccer and tennis teams.
In addition to being an avid fly-fisherman and golfer, Kelter enjoys traveling around the world with his wife, Jenny, and daughters Libby, Katherine '18, and Caroline. Among all of his successes, he considers his family to be his greatest accomplishment.
His advice to those who wish to pursue a career in real estate investment? "Find your passion, become better than anybody else, and focus, focus, focus."
The Catalyst Fund provides support for CDC programs. To learn more, please contact Sean Meehan '05, assistant director of leadership giving, at (860) 297-2334 or sean.meehan@trincoll.edu.