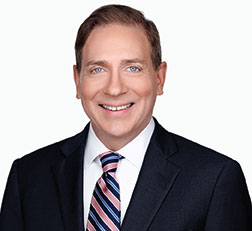 DEGREE: B.A. in history
JOB TITLE: Chief meteorologist at WUSA9 in Washington, D.C. (CBS affiliate)
FAVORITE TRINITY MEMORY: A weather one, of course—the blizzard of 1978 in early February. It was our third nor'easter in 3½ weeks, each storm bigger than the previous one. This storm, named Larry, was a cold-core hurricane with an eye and winds up to 85 mph. Even with computer modeling in its infancy, this was a very well-forecasted storm. The National Weather Service forecasted one to two feet of snow 24 hours before a single flake fell. During the height of the snow, visibility was down to 100 yards at best. It snowed very hard from about 11:00 a.m. to midnight. We then had light snow and flurries until the next day. We received our two feet. Ella Grasso, Connecticut's governor, shut the state down by 2:00 p.m. on the first day of the storm. Great call. Walking around the Trinity campus was just magical during and after the storm.
What led to your interest in meteorology? I was an unusual kid; some might say nerdy. I built a weather station when I was 8 years old and was forecasting by the time I was 10. Basically it has been a lifelong obsession.
What do you enjoy most about your work? Tough question. I am very lucky to enjoy all aspects of my work, including drawing graphics to explain the weather story, interacting with my incredibly talented co-workers, and delivering the forecast each night. I think my favorite part of my job is writing the forecast from home in the morning with a cup of Earl Grey tea. It is a quiet time to figure out the daily puzzle of what the atmosphere is going to do over the next seven days.
What are the biggest challenges you face? Technology. I refer to that as both a positive and negative. On the downside, the television slice of pie that we call ratings has become smaller due to the increase in the number of choices available to the consumer. With smartphones and DVRs, the consumer watches TV when it is convenient. Great for TV as a whole but less so for local TV news ratings. Appointment TV, when you had one chance to watch your favorite program, is dead. Now there are many digital platforms for news, and most programs are available on demand. The good news is that research continues to show that local TV news is still a very trusted source, particularly for local weather. The positive side to technology is the ability to reach more consumers more quickly. Our digital audience is larger than our broadcast audience. When we have breaking weather, our first priority is digital, then broadcast. My 19,000 Twitter followers (@TenaciousTopper), as well my Facebook and Instagram followers, will know instantly where the severe storms are located.
What would your ideal weather day be? A perfectly forecasted blizzard.
How did your time at Trinity prepare you for your career? Trinity continues to provide a fantastic education in that it prepares you to think. The ability to communicate, analyze data and situations, and then draw solid, evidence-based conclusions is the key to success. Those are the skills employers want and demand. My first broadcasting job was at CNN when the network had been on the air only a few months. For the first two months, there would be 20 new hires every two weeks. I was up against a lot of TV broadcast and journalism majors and as a history major did just fine learning to run a studio camera. The point is that as job automation and AI continue to advance and replace humans in the work force, the ability to think critically with a well-rounded education as a foundation will become even more important to remain relevant and of value.
What was the most memorable course you took at Trinity? "The Philosophy of History" reinforced my belief that we do not study history so as not to repeat it but rather to lend order to a chaotic world.
Did you have a professor who was particularly influential? I loved R.T. Lee's class "Ethics and Morals." He was so adept at explaining Aristotle and Hegel, so even I could understand it. If I were a faster reader, I would have double majored in history and philosophy.
Two of your daughters came to Trinity. What was that like for you? We did not push them to attend, but they were aware of our history. My wife, Alison Brennan Shutt '81, graduated from Trinity, as did her sister, Elizabeth Brennan '84, and their father, Edward Brennan '51. Claire, my oldest daughter, and Caroline, my youngest daughter, both fell in love with the school. Claire graduated in 2013 with a B.A. in English and creative writing; Caroline graduated in 2018 as a triple major in Italian, human rights, and international studies. It was great for Alison and me, as we had the opportunity to reconnect with classmates who also had kids at Trinity. We almost went three for three: my middle daughter almost went to Trinity but attended another NESCAC (Middlebury) and graduated in 2015.