COVID-19 woven into course content
By Andrew J. Concatelli
When the spring 2020 semester began, Trinity College students in the "Anthropology and Global Health" course had no idea just how timely their class discussions would become.
Each time he teaches the course, James A. Trostle, Scott M. Johnson '97 Distinguished Professor of Anthropology, makes sure it addresses current health news from around the world. Early in the semester, he told students about a new coronavirus that was then taking hold in China. By the third week of class, the COVID-19 global health crisis was the most important topic in every day's news. The very disease the students were studying eventually impacted how they lived and learned, with all Trinity courses conducted remotely by the end of March.
While the COVID-19 pandemic unfolded around the globe, Trostle was one of several Trinity faculty members who quickly adjusted their course curricula to study the real-time challenges presented to their respective fields. Sonia Cardenas, acting dean of the faculty and vice president for academic affairs, says it's not surprising that faculty would integrate real-world events like the pandemic into their courses. "It's what we do as a liberal arts college offering a broad-based, relevant, and humanistic education," she says. "I'm proud that Trinity's faculty is equipping students with the capacity to think critically about today's multifaceted challenges while sharpening their skill sets for the future."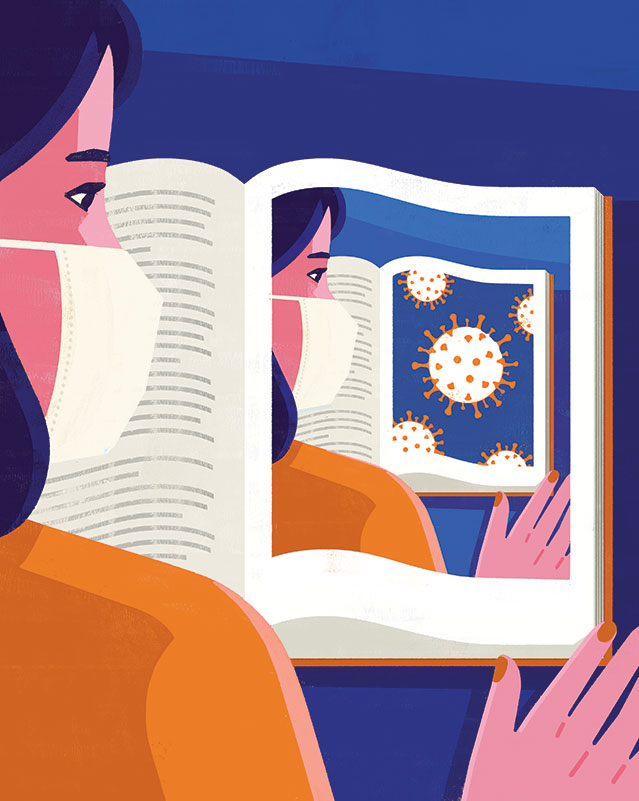 GLOBAL HEALTH
Trostle's course helps students understand public health problems and the organizations that exist to address them. The class explored topics including the meaning of a virus's reproductive number, the importance of community-based studies, and the populations and conditions in which a virus might thrive.
Caroline Richards '22 says, "The fact that we are living through COVID-19 in real time is brutal, but it is also a valuable learning experience that Professor Trostle has allowed us to take full advantage of. This alone has definitely taught everyone in this class to look at global health in an entirely new way—one that is less simplistic and distanced."
Trostle says, "The overarching message is that we are interconnected in many, many ways, and it's in my interest as an educator to help my students understand, critique, and repair those connections in the future."
Coincidentally, the 2019–20 academic year saw the introduction of Trinity's three-semester-long, interdisciplinary Global Health Humanities Gateway, co-directed by Erin Frymire, lecturer in the Allan K. Smith Center for Writing and Rhetoric, and Diana Paulin, associate professor of English and American studies. "Global health humanities is an emerging field of study of the human experience of health in response to increasing recognition that health and health care are so much more than just the science," Frymire says.
In this case, discussions of the pandemic fit easily into the syllabus. "One idea we discussed was the tension between urgency and accuracy in health communications and news. The public needs to know now, but developing scientific understanding is a slow process," Frymire says. "That resonated with students and helped them feel more equipped to interpret what's going on."
The number of applications for this gateway program increased for fall 2020, with nearly every first-year student application referencing the coronavirus. "They see that an interdisciplinary study of health is crucial," Frymire says. "There is no facet of life that has not been affected by the virus."
ECONOMIC IMPLICATIONS
Assistant Professor of Economics Hasan Comert significantly changed the focus of his seminar, "Central Banking and Financial Innovations," to discuss the volatility in financial markets caused by the coronavirus and the responses of central banks. "Everything was evolving quickly," Comert says. "I assigned videos and financial press articles from the Financial Times, The New York Times, The Wall Street Journal, CNBC, and Bloomberg." As the United States and world stock markets became more unstable, it was difficult to keep up with the latest news.
"I felt like a meteorologist watching a perfect storm and then trying to explain it," Comert says. "It was a unique and devastating event, and it's very important to learn and follow these developments as a scholar." In the first half of the semester, students developed a framework of understanding changes in financial markets and central banks, then used that knowledge to analyze the impacts of COVID-19. Comert adds, "Based on their feedback, students also got a lot of out of this, and I feel it was one of my most interesting and productive teaching experiences."
In "Fiscal Policy in the United States," taught by G. Fox and Company Professor of Economics Diane C. Zannoni, students constructed a library research guide focused on the economic effects of the pandemic, with remote guidance from social sciences librarian Rob Walsh.
"The project is an excellent example of the intersection of current events and course curriculum," Walsh says. "The intent was for students to identify the best sources for those who might, in the future, research the policy implications of COVID-19."
Gianni Valentini '21 says that Zannoni designed the project midsemester, when she learned that the class was interested in delving deeper into the economic effects of COVID-19 and how fiscal policy would be implemented to help the U.S. economy. For the research guide, Valentini focused on the $2.2 trillion stimulus bill. "Researching the nuances of this bill increased my understanding of how fiscal policy is exercised and how challenging it is to target components of the economy that are the most in need," he says. "As a student, having the chance to research a world-altering current event is an exciting and unique experience."
PUBLIC POLICY PERSPECTIVE
Students in Trinity's undergraduate Public Policy and Law and graduate Public Policy Programs studied what Sean Fitzpatrick, professor in the practice of public policy and urban studies, calls a "real-life civics lesson," as states and the federal government grappled daily with how to respond to the COVID-19 pandemic.
Adrienne Fulco, associate professor of legal and policy studies and director of the Public Policy and Law Program, supplemented her "Federalism and Public Policy" undergraduate course with current articles and online discussions connecting the day's news with topics from class.
"The purpose of the course," Fulco says, "is to investigate the strengths and weaknesses of our system of federalism, where the states have authority over some things, the federal government has authority over others, and sometimes those come into conflict."
For students, the pandemic response helped to clearly illustrate the ideas introduced by Fulco. Ailani Cruceta '22 says, "This class really pushed me to think about the laws and rights that exist within a federal and state level. The concept of what rights the government should have in moments like this one is a concept that had never crossed my mind until this pandemic."
Fulco adds, "Students have been applying their knowledge in a way that makes me proud. My goal is to make them well-informed; it gives them a sense that they understand what's going on, even though they can't control it or fix it."
Fitzpatrick's graduate-level "Leadership in the Policy Arena" course incorporates current issues, so it was natural to add the pandemic response to this semester's curriculum. "COVID-19 is a perfect case study because it involves government at all levels," Fitzpatrick says. "This is one of those situations where you wish you didn't have such a great example to analyze, but here it is. Academically, our students will remember this semester."