Carlos Espinosa '96, M'98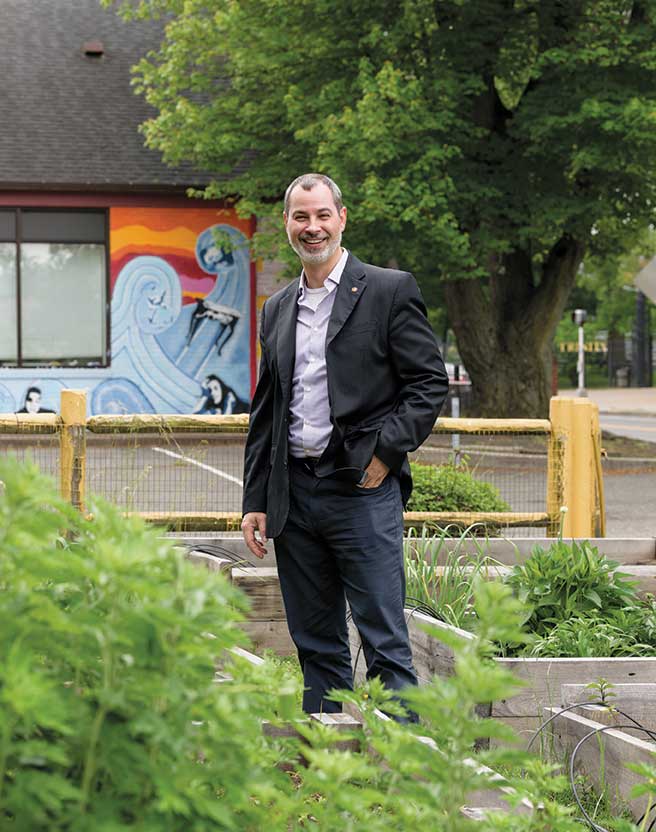 Growing up in Hartford, Carlos Espinosa '96, M'98 loved accompanying his dad to the Friendly's on Broad Street for ice cream. For the past 21 years—ever since the former Friendly's became the home of Trinfo.Café—Espinosa has been retracing the steps of his childhood outings as he heads to work each day as director of community relations and Trinfo.Café.
After earning a B.A. in educational studies and sociology and an M.A. in public policy, Espinosa worked in community organizing with Connecticut nonprofits and in Washington, D.C., before joining his alma mater. He is known for his devotion to strengthening connections between Trinity and Hartford; developing community partnerships; collaborating with professors, staff, and students; and creating a welcoming experience for all at Trinfo.Café. His longtime colleague, Instructional Technologist Dave Tatem, says, "Carlos looks for ways to improve things. Even when something's really challenging, he's always cheerful."
Trinfo.Café opened in 2000 as the hub of Trinity's Smart Neighborhood Initiative, with a goal to bridge the community's "digital divide" through computer technology and internet access. Today, Espinosa says, "Technology is still at the core of Trinfo, but we've become a much broader community space." His role has expanded, too. Within a few years after his initial job reaching out to organizations to offer internet access, he became Trinfo.Café's director. In 2018, he was promoted to his current position, coinciding with the creation of Trinity's Center for Hartford Engagement and Research (CHER), which brought together several community engagement programs at the college.
Espinosa is a parent of two, along with wife Luiselle Rivera M'08. These days at Trinfo.Café, he is especially energized by a student leadership initiative. "All our student workers organize and put on events open to the community." Examples include yoga sessions, a portrait-painting event, and a Halloween celebration, when neighborhood children visited the Trinfo.Café Community Garden to pick out and decorate pumpkins before enjoying snacks and cartoon movies.
Espinosa learned long ago that a good community organizer works behind the scenes most of the time. "I've never wanted to be in the limelight." Instead, he says, "I'm happy being a good contributor to a variety of institutional efforts to make this a better place."
For more about Trinfo.Café, please visit https://trinfocafe.org/.
Editor's note: "Trinity Treasure" highlights a person, place, or thing on campus that is just what the name implies: a Trinity treasure. Do you have an idea for what to showcase? Please send your suggestions to sonya.adams@trincoll.edu.