Exploring The Global Connection Between Study Away In Latin America And Fulbright Grants
By Andrew J. Concatelli
What is it about participation in Trinity College's study-away program in Latin America that has led to 12 recent graduates receiving Fulbright grants in the last 10 years? While usually no more than 6 percent of Trinity students who study away do so in Latin America, that program has produced nearly 40 percent of the College's 31 Fulbright winners since 2007.
Alumni, faculty, and staff have ideas about the correlation. They say the Latin America program — originally in Santiago, Chile, and now in Buenos Aires, Argentina — is designed in a way that encourages the development of a compassionate, global perspective and that the goals of the students who are attracted to Latin America naturally align with the mission of the Fulbright U.S. Student Program. The long list of its participants who have received one of the most selective and prestigious graduate fellowships to teach English or to conduct research around the world has become a point of pride for the relatively small study-away program. "Fulbright scholars are very rich evidence of the global commitment of our students and how the Buenos Aires study-away program is instrumental in fostering that commitment," says Assistant Professor of Language and Culture Studies Rosario Hubert.
Trinity in Buenos Aires provides students at all levels of Spanish-language studies with strong academic, cultural, and co-curricular opportunities. All students take the Trinity core course, "Buenos Aires: The Urban Experience, Human Rights, and Cultural Production," taught by Trinity Faculty-in-Residence Maria Silvina Persino; complete an academic internship or community-based volunteer project; live in a homestay with a family; and directly enroll in remaining courses at Argentine universities. While the program once had a focus on language immersion, a new beginner track taught in English increases access to more students.
"We usually have about 10 to 20 students study in Buenos Aires out of the 350 or so total who study away each year," says Zachary Macinnes, study away outreach coordinator and adviser for Trinity in Buenos Aires. "The students who go to Latin America are looking for something a little more challenging, and they get a lot out of it. They may feel more comfortable about applying for a Fulbright to go to Mongolia for a year, for example, because they've done this program."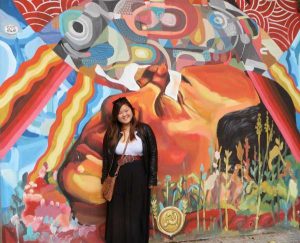 Dean of Academic Affairs and Charles A. Dana Research Professor of Language and Culture Studies Anne Lambright, who was an adviser for students in the Santiago program and is now a faculty sponsor for the Buenos Aires program along with Hubert and Associate Professor of Educational Studies Andrea Dyrness, says she thinks that there "may be something intrinsic to the type of student who would choose to study" in Latin America. "The students may tend to be more intellectually curious or more open to different experiences, which I think are characteristics the Fulbright commissions look for."
The Buenos Aires study-away program has a focus on human rights, and students are required to complete a one-credit internship that deeply involves them in the local community. "They work with human rights organizations and women's rights organizations, or in disadvantaged communities, or with people with special needs," Lambright says. "These experiences give the students an idea of the problems in the world and ways in which people are working to solve them. That gives them the curiosity to apply for a Fulbright grant, and it gives them a profile that is attractive to Fulbright."
Many Trinity students who have gone on to receive Fulbright grants completed their time studying in Latin America with the desire to return to continue helping the communities they had come to know and love. "They have transformative experiences that make them want to go back," Lambright says. "The students are driven, but not in a selfish way. They have a clear commitment to social justice and social change and are very aware that they have privileged positions, even if they didn't come from privileged backgrounds. They translate that privilege to responsibility. Having an experience living and studying in Latin America really opens their eyes."
Melody Mendoza Lins '09 had the opportunity to intern at the Institute of Women in Santiago. "I participated in a joint effort to create workshops aimed at educating Peruvian immigrant women about sexual and reproductive health, domestic violence, and their rights as workers," Lins says. "It was incredibly fulfilling for me to witness how my contribution to education allowed the women to recognize the independence they have over their bodies and the importance of voicing their concerns." Lins graduated from Rutgers Law School last year, recently passed the New York and New Jersey bar exams, and now works in the Appellate Division of the New Jersey Superior Court. "My experiences studying abroad definitely inspired and prepared me to embark on my Fulbright journey and have shaped my career and who I have become," she says.
While most of Trinity's Fulbright recipients have received English Teaching Assistantship grants, Jessica Cote '12 won a research grant. "In Buenos Aires, I developed a solid sense of independence and self-confidence. These traits not only helped me to navigate the city and culture during my semester abroad but also later enabled me to design my Fulbright research project with only minimal guidance from mentors and then pitch my project idea to various research groups in Chile to obtain support from a host institution," Cote says. "My time in Trinity's study-away program helped me to identify my main personal motivator in scientific research: to contribute to the world's knowledge of health and disease." Her project investigated whether consumption of the Chilean maqui berry — a fruit used medicinally for generations by the native Mapuche people in Chile — could prevent or slow the onset of neurodegeneration. Cote is now a Ph.D. candidate in the Neuroscience Graduate Program at the University of Michigan in Ann Arbor.
A demonstrated interest in a different culture and a passion for helping others are certainly among the qualities that are assessed in every Fulbright applicant, says Trinity Director of Fellowships Anne Lundberg, who helps students connect with graduate fellowship opportunities. "Fulbright evaluates applicants on characteristics including maturity, motivation, and personal stability," Lundberg says. In addition to possessing strong communication skills in English and the proper language qualifications for the destination country, applicants must provide evidence of their ability to adapt well to another culture. "Those who have studied abroad have shown that through the successful completion of their program," Lundberg says.
The application process involves a project proposal and personal statement that explain "what you are planning to do and what motivates you to do it," Lundberg says, as well as three letters of recommendation. Another consideration is the impression the candidate will make abroad as a citizen representing the United States. "Fulbright grantees are considered by the U.S. government to be 'cultural ambassadors' for the United States, so you're trying to make an argument for yourself about how you would represent the best of American culture and American values," she says.
Lundberg believes that the large number of Fulbright grantees coming from the Latin America study-away programs casts a positive light not only on the individual students and the specific programs but also on Trinity as a whole. "Fulbright has developed a reputation and a prestige that reflects well on the kind of teaching that we're doing and the opportunities that Trinity students have," she says. "The faculty, staff, and administrators are very supportive and invested in helping students succeed."
Of the 12 Trinity Fulbright recipients who previously studied away in Latin America, 10 are women. Five are pictured here; Danielle Padula '12, Jeannie Guzman '10, Katherine Gagen '16, Melody Mendoza Lins '09, and Jessica Cote '12.
In Their Own Words
"My experience studying abroad influenced me to apply for a Fulbright because I understood the tremendous value in being immersed in another country for an extended period of a time. I had so many enriching cross-cultural experiences during my semester abroad. I saw Fulbright as an incredible opportunity to contribute in a meaningful way in a foreign country and to deepen my connection to Latin America." — Jacqueline Kahan '08
"Studying abroad in Chile, as well as visiting neighboring countries, shaped my desire to apply for a Fulbright grant. My experience living and studying in Santiago was so rich, transformative, and intellectually thrilling that I knew I had to find a way to go back to Latin America. I think that what made me a strong candidate for a Fulbright was that oft-cited element: passion. I am passionate about cultural studies, language studies, and intercultural exchanges." — Sophia Becker '09
"Studying in Latin America was an incredible journey of self-awareness. I learned the importance of cross-cultural learning to bridge our differences. During my time in Chile, I volunteered with youth organizations and interviewed child-rights advocates who later inspired my second senior thesis. Both professional and academic experience, coupled with my story as a first-generation immigrant in New York City, solidified why I wanted to apply to Fulbright. I knew that education, and in this case learning English, can further open opportunities." — Jeannie Guzman '10
"My experience studying abroad provided me the landscape conducive to personal growth. Overcoming the challenge and experiencing the reward of living outside my comfort zone gave me not only the confidence but also the thirst to seek new personal challenges. I saw the Fulbright scholarship as an extension of my time abroad in that sense. Trinity's study-away program opened my eyes to the various Latin American cultures existent in South America, and I became fascinated with the different cuisines each offers. My experience in Argentina certainly played a large role in choosing Panama as my Fulbright destination, as Panama is recognized as a "melting pot" of Latin American cultures." — Danielle Padula '12
"The fact that that I was completely immersed in Argentine culture had a large role in preparing me to apply for Fulbright. I became comfortable with being uncomfortable: I lived with a host family that spoke a different first language than me, and I took classes in which I was the only foreigner. My experience abroad taught me how to transcend cultural barriers, which in turn fostered both personal and intellectual growth. The most eye-opening thing was breaking stereotypes that I didn't even know that I had, and in turn, surprising people who had preconceptions of what people from the United States were like as well." — Katherine Gagen '16
"Studying abroad makes you bolder and more open-minded and allows you to connect with people in ways you never thought before. It also brings attention to the intoxicating idea that people are so different and yet so similar at the same time, an idea that compels and even drives you toward learning more about various places and populations around the world. Trinity in Buenos Aires was one of the key players in inspiring me to pursue the Fulbright. I thought that studying abroad there would help me get rid of my travel bug, but, in actuality, it made it more infectious. It permanently instilled me with a need to seek out new things and to get to know more about the world."  — Alex Suárez '16