By Molly Thoms '17
Trinity's relationship with Hartford's immigrant and refugee community precedes the recent co-sponsoring of a refugee family by the College and Hartford's Trinity Episcopal Church.
Associate Professor of International Studies Janet Bauer, who has been involved in Hartford's immigrant and refugee community since 2000, teaches classes at Trinity about immigrant and refugee resettlement. She has conducted scholarly research in the community and has worked with local organizations to improve the lives of newcomers to Hartford. Bauer says that since her scholarship focuses on the Hartford community, it is important to her to give back to that community. She serves on the Commission for Refugee and Immigrant Affairs in Hartford in addition to her volunteer work with area organizations.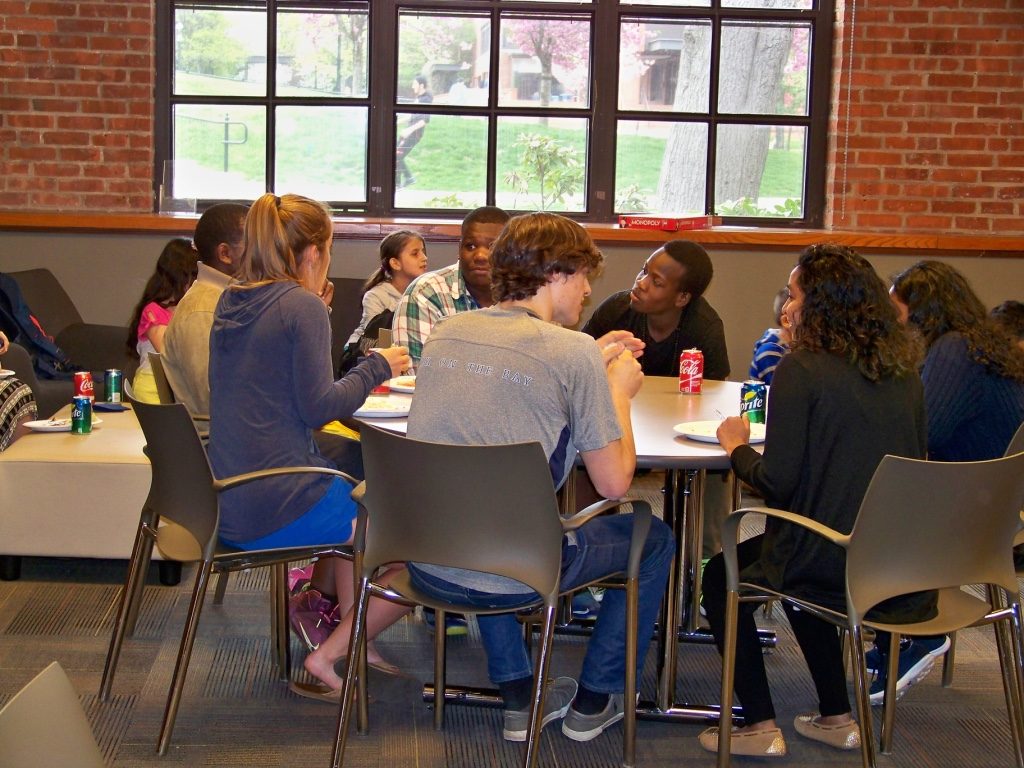 Bauer also has found a way to combine her desire to help the community, expand her own research, and enhance Trinity students' experiences outside the classroom. Students in "Hartford Global Migration Lab," a half-credit laboratory attached to the courses "INTS 250. Global Migration" and "INTS 249. Immigrants and Refugees," are guided in getting a sense of how what they are learning in the classroom takes shape in the Hartford community. The lab is limited to 10 to 12 students so that Bauer is able to pair students with community organizations working with immigrants and refugees or with individual families.
Students' involvement in the community during the spring semester went beyond spending time with families in their homes tutoring English, helping immigrant kids with homework at the Park Street Branch of the Hartford Public Library, and teaching adult immigrant women at Jubilee House. For the first time, a group of lab students also piloted a mentoring program for refugee youth. This program brought children from refugee families to Trinity College once a week, engaging them in activities on campus, such as the annual robotics tournament or sports, as well as activities that provided assistance with language skills, cultural competence, and career planning. Bauer says that Somali Bantus, Syrians, and Burmese Karens were the primary groups involved. These groups have been in the United States for various lengths of time and have different needs related to acculturation and support.
Bauer says that one of the biggest complaints that immigrants and refugees have about their experience living in Hartford is that most of their interactions and friendships are with other immigrants and refugees. The "Hartford Global Migration Lab" can serve as a way to help bridge that gap. "For the children of immigrants and refugees in particular, having contact with and being accepted by American college students can be important to their success in this society," Bauer says. "Trinity students become what the literature calls 'cultural brokers.' Trinity students may be asked to answer many questions about American culture. Very often the things my students say or do translate into 'this is how Americans do it,' so they need to be aware of that. For some Trinity students, this also becomes an opportunity to form more lasting relationships with individual refugee youth."
Bauer says she enjoys having Trinity students work on projects with her. "I find it very valuable to have other people observing the same things I am because they have different insights to bring back when we discuss what we've seen." She also finds immigrants and refugees — especially young people — may respond differently to students. "We get a different kind of information in response to my students," she says. "It can be very informative to see how immigrants and refugees respond to them and maybe give them different answers than they would give me." This is something students convey in group meetings and in their ethnographic posts describing what they have observed and experienced in their work with immigrants and refugees.
Bauer says students also gain significant skills from the experience. "First of all, it puts them into the community, so they have to develop self-confidence to be able to interact with people who are very different from themselves," she says. "It exposes them to some of the real-life challenges that we read about in the classroom that they wouldn't otherwise experience."
In terms of her students' participation in the research, Bauer says, "they have to observe, try to make sense of what they're seeing, listen to others, and be patient in trying to understand what people are saying, especially if the immigrants or refugees don't speak English fluently." She adds, "I think these skills of participant observation and ethnographic writing are useful to take forward in whatever kind of work they're going to be doing in the future."
Meghan Johansen '17, an educational studies major, met Bauer when she took "Immigrants and Refugees" and the lab component in the fall of her sophomore year. She says that many programs in Hartford geared toward refugee and immigrant youth are limited to certain ethnic groups. "That makes it harder for the student to assimilate," Johansen says. "Our program has stood out because we have an open-door policy and welcome students of all ages and backgrounds to attend."
Johansen says that Bauer recognized how much she enjoyed working with people in the community. "Professor Bauer pulled me into projects she was working on, and everything else took off from there." Now a Trinity graduate, Johansen says she looks forward to returning to campus to attend the Thanksgiving dinner that she and Serena Seaman '17 first hosted in their sophomore year, which is attended by refugees, students, and professors.
Bauer's efforts are aligned with Trinity's desire to take better advantage of experiential learning opportunities in Hartford. In the future, she hopes, the College's involvement with Hartford's immigrant and refugee communities can deepen even further as Trinity responds to what she calls "a great opportunity for Trinity students, as well as Hartford's newcomers and the community organizations that support them." She hopes to institutionalize the Refugee Youth Mentoring Group and is relying on partners at Trinity, including the Women & Gender Resource Action Center, the Center for Urban and Global Studies, The Charleston House of Interfaith Cooperation, and the Office of Community Service and Civic Engagement, to provide support for a group of students who are trying to create a club to continue to engage Hartford's immigrants and refugees, particularly youths. She also anticipates that this initiative will continue to benefit from collaboration with two of her community partners, the Asylum Hill Neighborhood Association Welcoming Committee and Hartford Public Library's The American Place.
Read more on Janet Bauer's Global Hartford blog.