By Mary Howard
Today, Title IX is perhaps most often associated with college sexual misconduct policies. In previous decades, it was synonymous with women's opportunities in athletics. Neither of these issues is specifically mentioned in the landmark legislation.
The words of Title IX of the Education Amendments of 1972 are straightforward: "No person in the United States shall, on the basis of sex, be excluded from participation in, be denied the benefits of, or be subjected to discrimination under any education program or activity receiving federal financial assistance." If an institution receives any federal funding, all of its programs must comply with Title IX regulations.
When Title IX became law, Trinity College had not yet graduated a fully coed class. In the nearly 50 years since then, as interpretations and applications of Title IX have evolved, it has contributed greatly to the transformation of Trinity and all of higher education.
EARLY INTERPRETATIONS
When Robin Sheppard came to Trinity in 1974 to coach women's field hockey, basketball, and lacrosse, the law was relatively unknown. "I hadn't even heard of it," says Sheppard, who retired in 2015 as Trinity's associate director of athletics and professor of physical education, emerita.
Sheppard had just graduated from The College of New Jersey, where women weren't allowed access to training rooms, had to pay for their own uniforms, and played on fields "that were more like pastures than competitive facilities," she says.
But at Trinity, she found her male counterparts welcoming and accommodating. Sheppard was called to meet with then-Director of Athletics Karl Kurth Jr. "He pulled out a small booklet and said, 'There's this law out there called Title IX.' " The booklet, Title IX and Intercollegiate Athletics, was published by the Department of Health, Education, and Welfare and focused on interpretation and clarification, as well as how to assess compliance, says Sheppard. The two went through the book question by question, discussing ways to address any inequities in Trinity's sports program.
Fast forward to 2019, with Trinity offering 15 varsity sports for women—the same number as for men. With access to year-round training, better facilities, and strong role models, Trinity's female teams are flourishing. "The talent has increased tenfold," says Sheppard. "With all respect to the great female athletes of the '70s and '80s, I can only imagine how much they would have accomplished if they had the opportunities that are available today."
BEYOND ATHLETICS
While over the years Title IX was tied to athletics, "the impetus for Title IX had little to do with sports," says Adrienne Fulco, associate professor of legal and policy studies.
The seeds for the passing of the landmark legislation were planted during the 1960s as part of a larger affirmative action movement in higher education. "It was a time when women were not even allowed to apply to many institutions," says Fulco.
Title IX applies to all aspects of education, including enrollment, curriculum, financial aid, housing, and student services. It also has helped rectify gender imbalance in faculty hiring and pay. More recently, the law has given students a platform from which to fight sexual misconduct and has granted protections to transgender students.
"The letter required colleges to take steps to end sexual harassment and assault and to clearly define consent and sexual violence," says Venice Ross, associate director of human resources and Trinity's Title IX coordinator. Administrators were to inform students reporting misconduct of their rights and to support them in speaking to police. Colleges would promptly conduct investigations, and hearing officers were to determine sexual misconduct by a preponderance of evidence standard, meaning that the evidence suggested an act was more likely to have happened than not.
What this meant for Trinity and other institutions was a revamping of policy and educating their constituents. "As a community, Trinity is responsible for ensuring that students, staff, and faculty are aware of the reporting protocols, confidentiality, and how to refer survivors to resources," says Ross. Trinity also is obligated to provide fair and equitable investigation processes to all parties.
GUIDELINES IN FLUX
In 2017, the Trump administration rescinded the Obama-era guidance, and, in November 2018, U.S. Secretary of Education Betsy DeVos released proposed rule changes relating to Title IX, including those that would narrow the definition of sexual harassment and give those accused the right to cross-examine their accusers during live hearings. Debate ensued when the public was given 60 days to comment on DeVos's proposal, and more than 100,000 comments were posted at www.regulations.gov.
Here at Trinity, Brooke LePage '19, says she thinks the proposed rule changes would go too far. "I agree that the prior system was not functioning as well as it should," she says. "However, I think that Secretary DeVos underestimates the level of harm the proposed guidance will have on survivors."
LePage, a public policy and law major, is writing her senior thesis on Title IX and the implications of the current administration's proposal. She was the teaching assistant for Fulco's popular fall course, "Title IX: Changing Campus Climate," which gives students the opportunity to explore the legal and policy implications of the Title IX federal guidelines.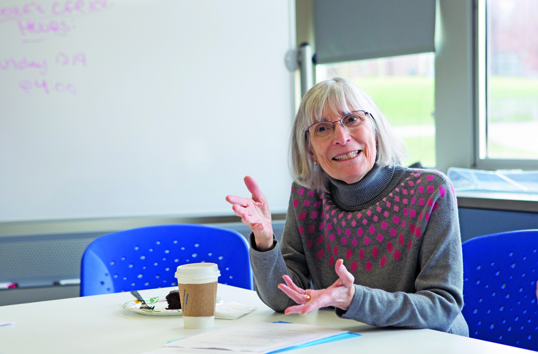 Lillia Lovell '22, who requested permission from Fulco to take the class as a first-year student, appreciated the course's design. "The discussion focused less on personal opinion and more on the effectiveness of policy and its development," she says.
As a final assignment, students wrote papers suggesting improvements to Trinity's Title IX policies. In his paper, Sam Spencer '21, a public policy and law major, focused on the needs of transgender students, suggesting Trinity provide specialized health services, more extracurricular activities, and more accessible online resources. "The retraction of Obama-era guidance left transgender students especially vulnerable," he says.
What does the future hold for Title IX? All indications seem to point to continued uncertainty on this hot-button issue. Even after any new changes are finalized, recent regulations passed by some states to keep Obama-era guidelines in place may present conflicts.
Trinity President Joanne Berger-Sweeney, in her letter providing comment on the proposal, urged that the changes be reconsidered to ensure "an environment that is safe for all." Ross says she hopes that the Department of Education will consider modifying the proposed rules, especially those that deeply affect students, such as the mandate for live hearings with cross-examinations, a point also noted by Berger-Sweeney in her letter.
Whatever the outcome, Fulco says, Title IX will continue to play an important role on college campuses. "I believe that colleges like Trinity are, first and foremost, committed to the principle of equal opportunity for all students."