The Trinity College Board of Trustees has welcomed four new members: William "Bill" Eugene Cunningham, Jr. '87; Eric R. Fossum, Ph.D., '79, H'14; Paul H. Mounds, Jr. '07; and Kathryn George Tyree '86.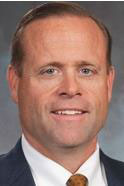 Cunningham, who received his B.A. in computer coordinate with economics, recently accepted the position of president and CEO of IAT Reinsurance Company after working at The Travelers Companies for 27 years. At Travelers, he was executive vice president of business insurance, responsible for the U.S. commercial businesses. He and his wife founded The Foundation for a Cure for Mitochondrial Disease, Inc. in 2000, after their daughter, Kelly, who passed away in 2005, was diagnosed with the disease.
Fossum, who earned his B.S. in physics and engineering at Trinity and his M.S. and Ph.D. in engineering and applied science from Yale University, is a professor at the Thayer School of Engineering at Dartmouth and director of the school's Ph.D. Innovation Program. He is a semiconductor device physicist/engineer who also led two successful start-up companies as CEO. At NASA's Jet Propulsion Laboratory, he invented the CMOS image sensor now used in billions of cameras. Fossum has published more than 260 technical papers and holds more than 150 U.S. patents. He was inducted into the National Inventors Hall of Fame and is an elected member of the National Academy of Engineering.
Mounds, a political science major at Trinity, is the board's newest G. Keith Funston Trustee. He serves as director of government affairs for the Office of Connecticut Governor Dannel P. Malloy, a position he has held since 2012. Previously, Mounds was deputy state director for outreach for the Office of U.S. Senator Richard Blumenthal, communications director at the Office of U.S. Congressman John B. Larson, and federal grants coordinator/press assistant at Larson's office. Mounds also serves as a trustee of the Harriet Beecher Stowe Center in Hartford, Connecticut.
After graduating Phi Beta Kappa with a B.A. in economics, Tyree joined Brown Brothers Harriman (BBH) as a management trainee. She is currently a partner at BBH, responsible for Enterprise Risk Management, Office of the General Counsel, Human Resources, and Compliance. She is also president of the board of The Gillen Brewer School and a trustee of Episcopal High School in Alexandria, Virginia.
For a full list of Trinity's Board of Trustees, please visit www.trincoll.edu/abouttrinity.