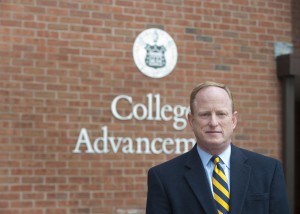 Stephen J. Donovan started in November as Trinity College's director of alumni relations. The announcement was made in October by Vice President for Advancement John Fracasso, who underscored the critical role this position plays at Trinity, where alumni form a highly committed and loyal constituency.
Donovan comes to Trinity most recently from the University of New Hampshire, where he was associate vice president for advancement and executive director of the University of New Hampshire Alumni Association. While there he led a 15-person staff responsible for creating and sustaining an active alumni body from more than 130,000 alumni; for engaging with corporate and affinity partners; for working with alumni and parent groups; and for fundraising through the university's annual fund.
Donovan also brings more than 12 years of experience at Dartmouth College, where he held increasingly important roles in the college's Office of Alumni Relations. Like Trinity, Dartmouth is known for its closely connected and active alumni community and is particularly noted for its global alumni network with 98 alumni clubs worldwide.
"Trinity is fortunate, indeed, to attract an alumni relations director of Steve Donovan's caliber to our College," said Fracasso. He also noted the critical role the interview committee played in identifying the best candidate. That committee comprised six highly committed alumni volunteers: Diane DePatie Consoli '88, Peter W. Espy '00, L. Peter Lawrence '71, Ernest J. Mattei '70, Martha Smalley Sanford '94, and Jean M. Walshe '83.
Donovan earned a B.A. from Case Western Reserve University, where he spent the first years of his career in undergraduate admissions, alumni affairs, and fundraising.