New program offers third point of entry for first-years
Starting in fall 2019, incoming first-years will have three options for entering Trinity. In addition to the traditional fall entry and the newer January Start, prospective students may choose Global Start, a foundational study-away experience where students spend their fall semester in San José, Costa Rica, giving them the opportunity to immerse themselves in another country's culture in their very first semester of college.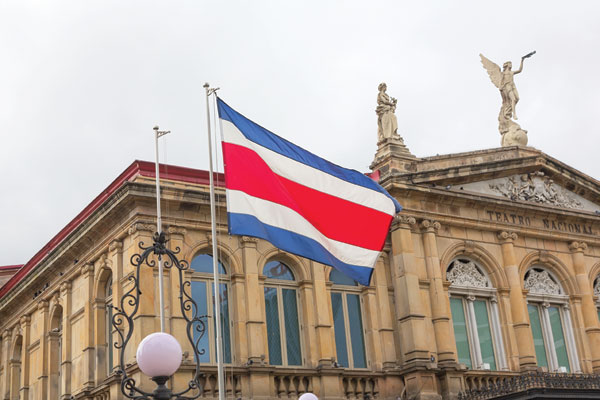 Participants in the Global Start program will take four classes on the campus of Universidad Latina, Costa Rica's largest private university. A first-year-seminar, "City and Country in Costa Rica," will explore the dynamic relationship of city and rural life. The remaining courses will be offered by the International Center for Development Studies (ICDS), the partner institution for Global Start. Students will take two electives in addition to a required course, "Community Learning and Sustainable Development," in which they will learn about and discuss the impact of globalization and sustainable human development on Costa Rica.
The program is consistent with the college's commitment to building meaningful connections with the community locally and globally. "Community Learning and Sustainable Development" is a gateway course that mirrors community-based learning classes and initiatives offered on Trinity's campus.
The final academic component of the Global Start program provides an additional way for students to engage in Trinity's community-oriented mission. In November 2019, ICDS will offer a three-week intensive course, "Sustainable Farming and Food Security in Rural Costa Rica," just for Trinity students. Students will live on-site at Finca La Flor, an agroecological farm in Cartago, Costa Rica, and will receive immersive and practical experience while they learn about water management, food-security policies, and other key components of Finca La Flor.
In San José, students will have full access to the university's facilities, will live in residence hall apartments, and will be provided with a meal allowance to be used at local restaurants, vendors, and grocery stores.
Melanie Stein, dean of academic affairs and professor of mathematics, has played an integral role in the program's creation and development, in collaboration with Jennifer Summerhays, Trinity's director of study away, and a faculty advisory group. Trinity Professor of Anthropology James A. Trostle will be the inaugural faculty director of the program.
Trostle has conducted research for many years in nearby Ecuador, is fluent in Spanish, and has been a frequent visitor to Costa Rica since his parents moved to the country in 1974. In addition to serving as the first-year seminar instructor, Trostle will help students navigate their first semester of college abroad.
The target for the first Global Start cohort is 10 to 18 students, the size of a traditional first-year-seminar at Trinity.
Stein says that while Trinity considered other locations for the first Global Start program, Costa Rica stood out for a number of reasons.
"One of the areas of focus in the Summit strategic plan's goal of educating students to become global citizens places emphasis on connections with Latin America and the Caribbean," says Stein. "We have a vibrant Hispanic Studies Department; we have a robust Latin American and Caribbean major within the International Studies Program; and we have recently inaugurated the Center for Caribbean Studies, which highlights our connections with the Caribbean community both in Hartford and abroad."
Stein said she hopes the program will grow, either within its current location or by branching off into other countries throughout the world. With Global Start, Stein says, "We hope to draw academically excellent students with a sense of adventure, who want to explore the world and engage with the community both locally and globally."