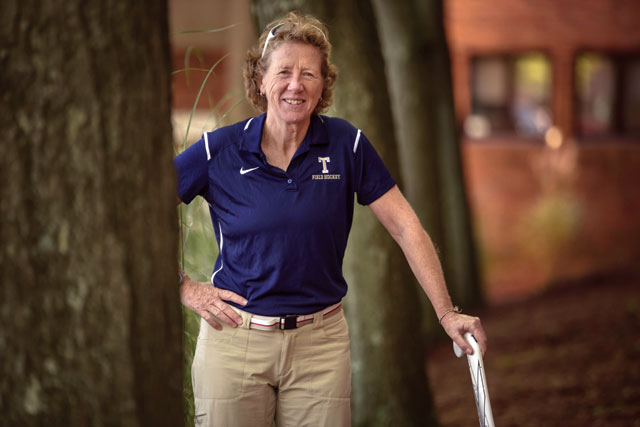 Anne Parmenter, field hockey head coach and professor of physical education, was inducted into the National Field Hockey Coaches Association (NFHCA) Hall of Fame in January in Lake Mary, Florida, during the organization's annual convention.
The 2018 season marked the 18th for Parmenter as the head coach of the Bantams, a tenure that follows 14 years as the head coach at Connecticut College and several years as an assistant coach at Amherst College, the University of Massachusetts, and the College of the Holy Cross. During her 32-year career as a head coach, Parmenter has amassed a record of 283–202–7, with 173 of those wins at Trinity.
With Parmenter at the helm, Trinity has qualified for the New England Small College Athletic Conference (NESCAC) championship tournament 13 years in a row, including in 2018, when Trinity finished ranked No. 13 in the Penn Monto/NFHCA Division III National Coaches Poll. Among active NCAA head coaches entering the 2018 season, Parmenter ranks 23rd in wins; across Division III head coaches, she ranks 11th.
In 2014, she was named the NESCAC Coach of the Year and the NFHCA Regional Coach of the Year. In 2015, she was inducted into the Connecticut College Hall of Fame. Parmenter also coached Trinity's all-time leading scorer, Kelcie Finn '18, who was named the NFHCA Division III National Player of the Year in 2016 and 2017.
Off the field, Parmenter is an accomplished mountaineer. She has climbed Denali, Mont Blanc, and Aconcagua, among others. In 2006, Parmenter fulfilled a lifelong dream of summiting Mount Everest.
A native of England, Parmenter graduated in 1981 from Chelsea College of Physical Education with a degree in education. She earned a master's in education in 1987 from the University of Massachusetts Amherst. Parmenter also served as an assistant women's lacrosse coach for 13 years at Trinity, retiring from that sport in 2012.
Visit BantamSports.com for more articles about Anne Parmenter.