Shipley creates program to help employees find the right fit
By Abe Loomis
Photos by Bryce Vickmark

Louis "Lou" Shipley '85 traces the roots of his entrepreneurial success to the summer after his sophomore year at Trinity and a fitful night's sleep on a park bench in DeKalb County, Illinois. Shipley had taken a summer job selling encyclopedias door to door but neglected to arrange accommodations for his first 24 hours in the Midwest. By the end of the summer, he had racked up thousands of dollars in earnings.
"It was 100 percent commission, and it paid for a big chunk of my Trinity tuition. The experience taught me a lot about self-reliance,'" Shipley says. "The whole thing about entrepreneurship is you bet on yourself—you see a market opportunity, raise some money, start a company or join a start-up, and create something from nothing. When you succeed, there's not only a big financial upside but also a great learning experience and boost of confidence. That's the path I've chosen to take, and it started with that experience in Illinois. I'm fortunate to have had success and to have worked with many great people who helped me succeed."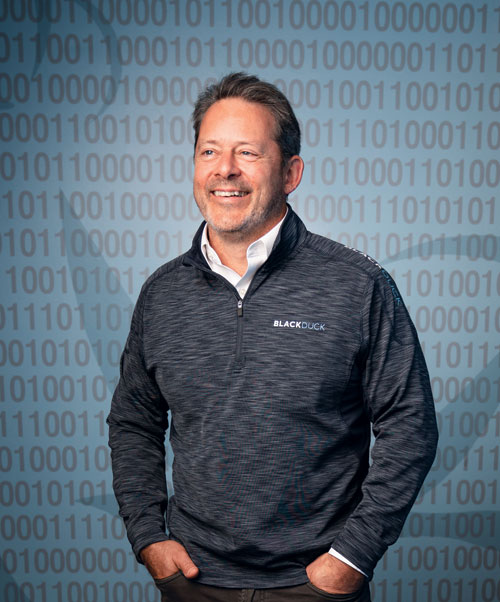 His early encyclopedia-sales triumph was a harbinger. Shipley studied at the London School of Economics his junior year and graduated from Trinity with a degree in economics. He earned an M.B.A. from Harvard Business School, spent a couple of years on Wall Street, and joined his first software start-up, Avid Technology, in 1990.
Shipley lived in Japan with his young family while managing Avid's Asia-Pacific business—successfully competing with Sony on its home turf—and went on to become CEO of Reflectent Software, a start-up later acquired by Citrix Systems Inc., where Shipley spent several years as a general manager before joining another tech start-up, VMTurbo (now Turbonomic), as CEO.
In December 2013, Shipley was recruited to become CEO of Massachusetts-based Black Duck Software, a struggling open source compliance business. Over the next four years, Shipley orchestrated a remarkable turnaround. He refocused Black Duck's business from open source compliance to open source security, and his timing was superb. Open source software use was exploding, and software security was becoming a top priority in c-suites and boardrooms worldwide.
Shipley was first to capitalize on the trend and helped create the open source security market, which today has many players. In four years, he quadrupled the number of Black Duck employees and, more importantly, increased Black Duck's value by more than 300 percent to the $565 million acquisition price global software giant Synopsys Inc. paid in 2017. Today he is a vice president of strategy at Synopsys, a role in which he continues many of his previous duties as Black Duck CEO.
Through it all, Shipley, who recently joined Trinity's Board of Trustees, has sustained his relationship with the college, not only as a proud alumnus but also as a recruiter and mentor for several current Bantams and other college graduates. Shipley created a rotational development program (RDP) at Black Duck, allowing new college graduates to move through multiple functional groups of the company to get a better feel for how they might want to focus their careers.
"As a young graduate, it's good to try multiple jobs to see what you like and don't like," says Shipley, also a lecturer at Harvard Business School and MIT Sloan School of Management. "So the program works well for both the employee who is learning and the employer who gets to see the employee in a number of different settings. We created two tracks for RDP employees: business—which includes sales, marketing, and finance—and technical—which includes software development, customer support, and software testing.
In Trinity students, Shipley sees the qualities that make successful employees and leaders. "The first thing is intellectual curiosity," he says. "Second is a broad, diverse education—they have an understanding of how to look at data and facts to help drive and grow a business. And they understand the need for diligence and hard work. We've found that Trinity students don't get frustrated with work that's hard; they stick it out. And finally, a really important thing that is sometimes overlooked is emotional IQ—social intelligence. Trinity kids have that in spades, and it's really important in terms of learning how organizations work, what your role is, how to work within the company, and how to work within the team."
One place Shipley learned an appreciation for teamwork was on Trinity's ice hockey team. He played three years for Coach John Dunham and has been a supporter of the team ever since. He fondly recounts being one of a few die-hard Trinity ice hockey fans who were in the stands with the players' parents in Minneapolis in 2015 to watch Trinity defeat the University of Wisconsin-Stevens Point to win the Bantams' first NCAA DIII national championship.
Ice hockey also became a part of the vibrant culture at Black Duck (now Synopsys), where Shipley and some of the 10 Trinity graduates he has hired meet at a local rink for weekly early-morning games. Among those graduates is Will Gray '14, who joined the enterprise sales team at Black Duck in 2016. Gray, now attending Babson College's F.W. Olin Graduate School of Business, says Shipley inspired his decision to attend business school—and helped make it possible.
"I spent two years working under Lou," Gray says. "And then—and this is just another example of how supportive he is, for Trinity people but really for all of his employees—I reached out to him knowing that he went to business school and because it was something that I was thinking about pursuing. … He gave me advice, spoke to me multiple times about it, and wrote my recommendation letter, which I think was a major part of me not only getting in but also receiving scholarships. Without his recommendation, I don't think I'd be in the position I am today."
According to Trinity Director of Career Development Joe Catrino, the tradition of alumni helping other alums, current students, and even prospective students, is a long and proud one at the college.
"The 'pay it forward' mentality is consistent over the years," Catrino says. "Someone helped them, then they were able to turn their opportunities into really good experience, and now they're paying it forward to others. The depth of value of our alumni base is just fantastic."
One way Shipley has broadened his reach to current Trinity students is through a yearly recruiting visit to campus. In fun, informative, interactive sessions, he and other Black Duck staff have helped groups of anywhere from 25 to 60 students understand that there is a place for liberal arts graduates in the tech industry. Joe Gamache '82, a software architect at Black Duck when Shipley was hired as CEO, has joined Shipley for some of the visits.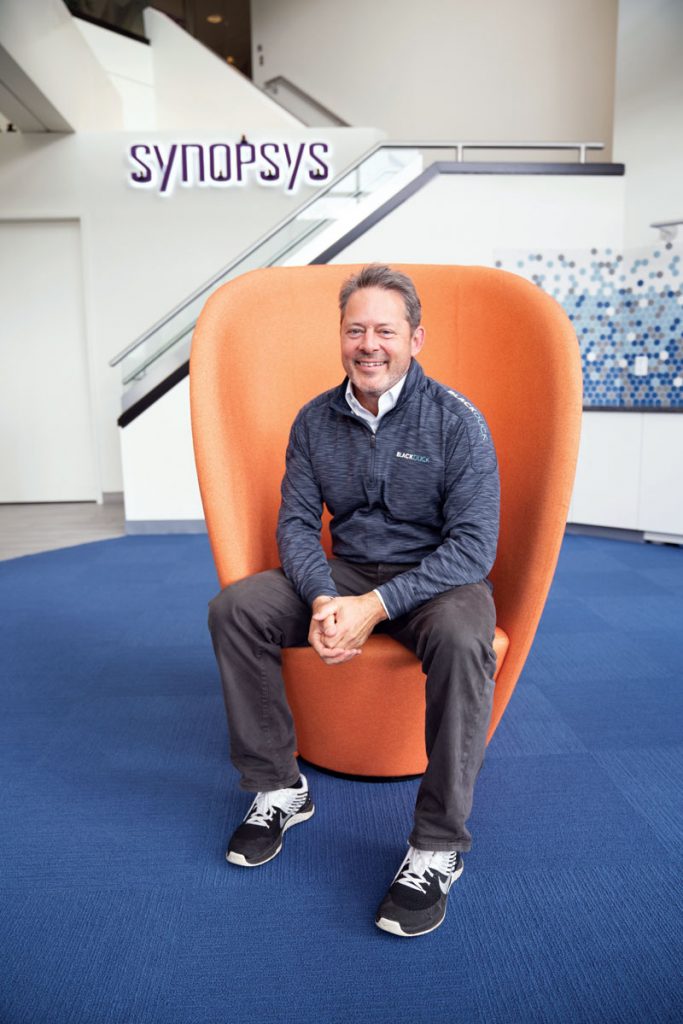 "One thing Lou talked about on one of the rides down [to the college]," Gamache says, "was that a lot of Trinity undergrads get exposed to opportunities in medicine, finance, and law, but he didn't feel that there was enough exposure to the tech industry and to entrepreneurship. So we started doing that. Many students came to our events, and we've had a lot of interest as a result. I don't think Lou was out to change the world with this but rather to change a few people's lives, and I believe it was quite successful in that regard."
For Shipley, the mission doesn't end there.
Hartford, he says, "needs a turnaround," and it is tech companies like Black Duck that will make that happen. Leading the way, Shipley believes, will be Trinity students and others who have learned the habits of mind to enable them to respond nimbly and to thrive in a rapidly evolving market. In the business world, Shipley says, "What we need are people who have a liberal arts background, where you're taught a variety of things and you're taught to question things and you're taught to prioritize things and have an inquisitive, curious mind. Everyone says we need more STEM graduates. What we need are people who can think."