[Posted by Eric Patenaude, for Prof. David Rosen's course, "Modern Poetry"]
Searching for an artifact about the poet H.D., I came upon a volume of Poetry magazine.  Although categorized under Robert Frost because he owned the volume and his poem was published in it, this small pamphlet of poetry also contained work by H.D.
Poetry magazine began in 1912 by Harriet Monroe and still continues today.  It has published works and helped solidify the careers of many major modern poets including T.S. Eliot, Ezra Pound, Robert Frost, Marianne Moore, and H.D.  At the Watkinson I found Volume 3, Number 5 of the magazine, published in February of 1914.
What I found interesting about this volume of Poetry is that we can see how H.D. was regarded in this moment of time.  H.D. (1886 – 1961) began her career as a poet in 1912 as one of the founding members of the Imagist movement.  Although Ezra Pound considered her an integral member of the movement, her importance in modern poetry took some time to be recognized by the reading public, which can be seen in this volume of Poetry.  She published two of her poems here, "Hermonax" and "Acon," however "Acon" is incorrectly spelled as "Avon" in the magazine.
At the end of the volume there is an advertisement for The Glebe, a monthly publication similar to Poetry magazine.  In this advertisement they mention prominent issues they have recently published, including Des Imagistes, an anthology of Imagist poetry.  Listing the authors in this volume, they include Pound, Hueffer, Aldington, and Flint.  Curiously, H.D. is left off of this list, although she did contribute to the anthology, and Pound considered her just as important as himself in the Imagist movement.  It is clear in this volume that H.D. hadn't yet established her reputation in modern poetry.
Her progress as a poet can be traced through Poetry magazine, especially after her collection of poems Sea Garden was published in 1916.  Later volumes of the magazine mention H.D. in high praise, often grouped together with Pound and other modern poets.  Max Michelson wrote in Volume 8, Number 2, published in 1916: "To me a collection of modern poems is incomplete without H. D. and four or five other writers."  Through this small monthly pamphlet of poetry, we can see the rise and maturation of a major modern poet.
Not only can we trace H.D.'s reputation as a modernist through Poetry magazine, we can also see her individual identity being shaped through the various transformations of her name.  When H.D. was first introduced in Poetry magazine in 1913, she was called "H.D., Imagiste."  This was a name Ezra Pound had given to H.D. when he edited and published her first poems.  Not only did Pound transform H.D.'s poetry to his own vision of Imagism, he also branded her an Imagist in her name.  The obscure initials, the use of the feminine ending, and the quotations around her name turned H.D. into an ethereal substantiation of Imagism itself.  She became the muse and symbol of Imagism more than an established poet in her own right.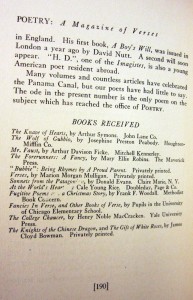 When she is first described in Poetry magazine in Volume 1, Number 4, published in 1913, her identity is unknown, other than that she is an "American lady resident abroad."  However, once we reach the volume I found at the Watkinson, she has dropped the Imagiste from her name, and is called "H.D." by the magazine.  Still, though, the quotations remain and retain the air of mystery and elusiveness surrounding her image.  Though coming into her own, H.D. was not yet considered a prominent poet; we cannot yet get to the direct treatment of who "H.D." is.  The quotations are eventually dropped from her name, and in later volumes of Poetry she is known only as H.D.  This volume of Poetry shows us a moment in time when H.D. was disrobing her Imagist accoutrements and solidifying her status as a profound Modernist poet, and not just an Imagist poet under the guidance of Ezra Pound.