[Posted as 7 of 10 in a series on the College Archives by Emma Paine, a graduate student intern from Simmons College]
Speaking at their 50th wedding anniversary party, Mrs. Barnett offered the Rev. Joseph Barnett, Class of 1913, the greatest tribute he'd ever received, saying "Thanks to my husband I've never lived a monotonous life."  I found these words in newspaper article about the 77-year-old's trip up to Trinity in a camper trailer, so it's safe to say she was telling the truth about that!
After graduating from Trinity in 1913, Barnett followed his father's example and was ordained as a priest in the Episcopal Church.  Although he could have avoided the action on the front lines by serving as a chaplain during World War I, he insisted on going to the front as a private. Several newspapers, including the Hartford Courant and the New York Evening Post reported the story, but Barnett didn't plan to tell his fellow soldiers that he was a clergyman—"I'm not going to sermonize and preach, and I'm not going to do missionary work for the church, but I do think that when it's all over—whether I come back or not will not make much different, perhaps—the men will know that at least one clergyman was not above living with them and dying with them, if need be," he said.
When the war ended, Barnett continued his work with the Church, traveling around the country to live and preach in a dozen states before purchasing a $3,600 mobile home and settling down in Florida. In addition to this trailer home, he and his wife also purchased a camper they used as their everyday car; Barnett brought this camper to Trinity for at least three reunions, parking it near the dorms and using the campus' electricity to power his stove and the refrigerator that kept his meat from spoiling.  "We think mobile homes are the greatest invention since the telephone," he said in another newspaper interview, and it's easy to see why— a moving house not only got Rev. Barnett where he was going—like to his beloved Trinity—but also let him meet new people along the way!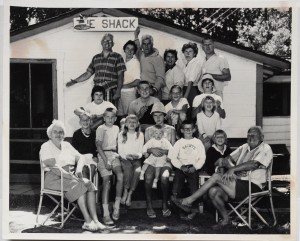 To learn more about Rev. Barnett, or anyone in the Alumni Files, stop by the Watkinson and ask at the front desk.
This entry was posted on Sunday, August 3rd, 2014 at 3:54 pm and is filed under
College Archives
,
Interns
. You can follow any responses to this entry through the
RSS 2.0
feed. Both comments and pings are currently closed.