[Posted by Meghan Crandall for AMST 838: America Collects Itself, from Colony to Empire]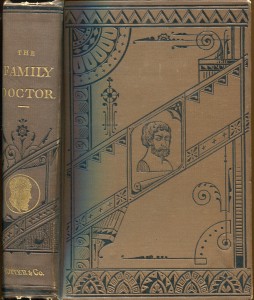 The Family Doctor: A Counsellor in Sickness, Pain and Distress, for Childhood, Manhood and Old Age by Professor Henry S. Taylor, was published in 1869.
Looking through the Watkinson for books on medicine at first seemed like an easy enough task, but when you search for 'medicine' you come up with 652 pieces. It was Taylor's plan which drew me to this text–to be honest, speak in simple terms and use common sense in respect to medicine in the 19th century. "We are sure that without health we can neither enjoy happiness nor discharge the duties which devolve upon us; and we know also that, if we would enjoy a healthy old age, we must exercise the care and prudence of the old while we are yet young".  It is clear that the author asks his readers to think highly of their health. It is intended as a guide to understanding and preventing illness.
Family medicine is based on knowledge of the patient and patient's family, and in some cases even the community. The goal of Family Medicine is to provide personal, comprehensive, and continuing care for the individual patient, family and community.  I can't remember having seen a recent book published that offers this kind of knowledge without using medical terminology. Instead we get sites like webMD.com; medical-dictionary.com, and medicinenet.com; which if you've ever been on any of these sites you find you have most of the symptoms listed; thus you are extremely sick, and the language used is not plain. "Our plan is with all honesty, simplicity and common sense, to guard our friends against what is prejudicial to health, and then to tell them what to do when disease visits them."
While The Family Doctor may be out of date by modern standards it still offers great advice. "We regard Tobacco as one of the greatest enemies of the human family, and indeed of all life." Clearly in 1869 and even before they knew the problems with tobacco, and the medical establishment is still fighting to stop tobacco use. Taylor states that "Nicotine was the awful agent chosen by Bocarme for poisoning his brother-in-law, because it killed and left no sign whereby to convict him."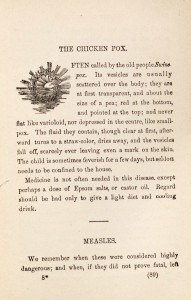 The book covers topics such as The Sick Room, Diseases of Children, Diseases of Men and Women, Wounds, Accidents and Minor Diseases, and Diseases of Women. The Sick Room is placed in the upper part of the house because diseases proved more fatal in the lower levels, such as kitchens or cellars. It should be well-ventilated and the fewer people allowed in the room the better. These requirements are not much different than current standards of care. What is most interesting is the book's in-depth descriptions of diseases such as Whooping Cough, Croup, Teething, Thrush, Cholera Infantum, Colic, Hickups, Diarrhea, Constipation, Vomiting, Worms, Rickets, Scalled Head, Ringworm, Rose Rash (False Measles), Chicken Pox , Small Pox, and many more. While we may not see hiccups as a disease it was depicted as a spasmodic affliction of the diaphragm, and perhaps the stomach.  The suggested cure was to have the patient in bed drinking cool drinks with the administration of sweet spirits or white-wine whey, or a teaspoonful of vinegar as often as needed.
Among the work's precepts were "Good morals preserve good health", "Good ventilation and good drainage are the first importance to health", "Air is to the lungs what food is to the body; therefore, breathe all the fresh air you can", "Laugh and grow fat is a good adage; cheerfulness begets health and health begets cheerfulness; and both, thankfulness for God's mercies", this piece of advice is not so different than what we use today "Live, Laugh, Love" is a common quote, and "To be angry is to be contemptible; it destroys self-respect and digestion".
Though the book was printed in 1869 it still discusses many things of concern to public health officials, and describes diseases in the mainstream 19th century and family health before the family doctor became commonplace. Linking The Family Doctor to similar books within the library is a simple task. Right Living by Charles E. Rosenberg written in 2003 writes of similar topics as The Family Doctor. Both these books note the existence of disease and treatment, but in different times; thus allowing readers to see the progression of medicine in America.