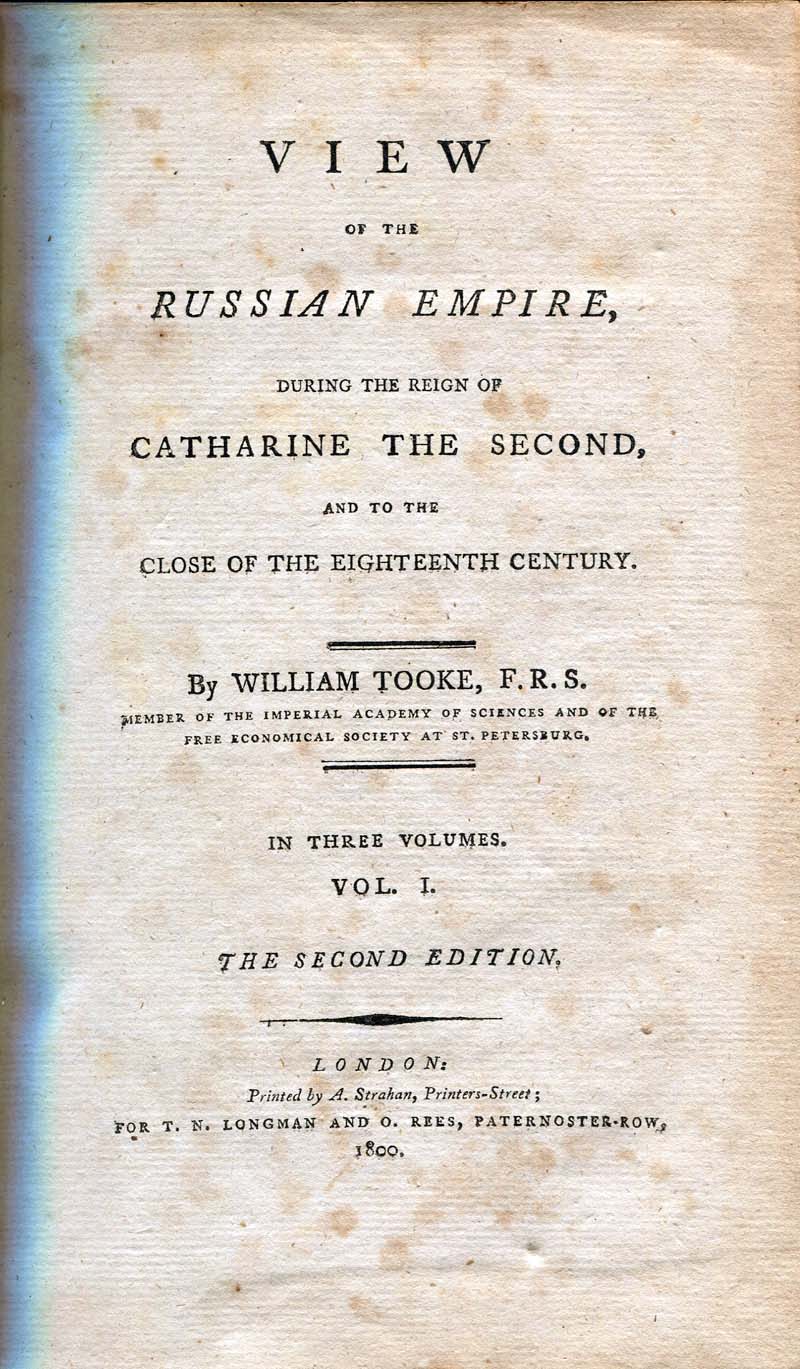 View of the Russian empire during the reign of Catharine the Second, and to the close of the eighteenth century, by William Tooke (1744-1820).  (London, 1800).
 This is the second edition, following the first of 1799 (we have two copies of the second, and one of the first–a testament to the work's importance, and the development of the Watkinson as a "library of reference."  A recent antiquarian bookseller's catalogue describes it thus:
 "Extensive overview of the peoples, customs, laws, religion, natural history, etc. of "the arctic eagle" (p. v), compiled from primary and secondary sources by a member of the Imperial Academy of Sciences and of the Free Economical Society at St. Petersburg. The Rev. Tooke was an "intelligent and observant Russophile" (DNB) responsible for several original works as well as a number of English translations (with added substance and critical apparati) of significant works on that country, including Georgi's Russia, or, A Compleat Historical Account of All the Nations which Compose that Empire  and Castéra's Life of Catharine II, Empress of Russia. The state of the Russian military forces is here described at length. The commerce section includes chapters on viniculture, sericulture, and apiculture, as well as mining and salt harvesting; at the back of the third volume are extensive tables of Russian imports and exports, merchant ships arrived and sailed, duties and taxes, and names of the most active St. Petersburg merchants. Coins and measures are also examined."
This entry was posted on Wednesday, December 15th, 2010 at 2:04 pm and is filed under
Uncategorized
. You can follow any responses to this entry through the
RSS 2.0
feed. Both comments and pings are currently closed.