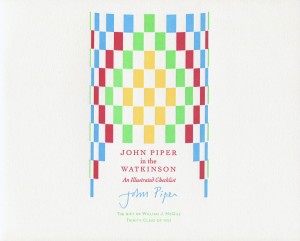 I'm very pleased to announce our most recent publication, John Piper in the Watkinson: An Illustrated Checklist, produced to celebrate the recent gift of a collection of books and ephemera related to the British artist John Piper (1903–1992) to the Watkinson Library. 
 The catalogue contains an essay by the donor (William J. McGill, Trinity Class of 1957) on his interest in Piper for over three decades, and an annotated list of the entire collection of ca. 200 items.  Designed by Arley-Rose Torsone, the text and full-color illustrations were printed by Finlay (Bloomfield, CT).  The cover, which features a stylized representation of the immense baptistry window of Coventry Cathedral which John Piper designed, was printed in four-color letterpress by DWRI Letterpress of Providence, RI.
 The catalogue was printed in only 500 copies, and will be available soon from our distributor, Oak Knoll Books. (www.oakknoll.com).
Tags: Publications
This entry was posted on Wednesday, August 3rd, 2011 at 8:20 am and is filed under
Uncategorized
. You can follow any responses to this entry through the
RSS 2.0
feed. Both comments and pings are currently closed.