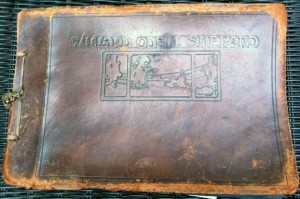 We recently received a gift of a photo album relating to our Odell Shepard collection. It was a Christmas present to Willard Odell Shepard (Odell's son) from his Aunt Irene Wood in 1914 and has mounted baby pictures and family photos from that year until 1928. There are also a number of loose photos, many taken by Odell, as well as a small, handmade album with additional family photos.
A distant relation to the family "rescued" this from eBay several years ago, and decided to give it to us–an excellent choice, and we will take care of it forever and well!
This entry was posted on Monday, March 12th, 2012 at 1:39 pm and is filed under
Gifts
,
New acquisition
. You can follow any responses to this entry through the
RSS 2.0
feed. Both comments and pings are currently closed.