This little nugget is part of a small display in the Trinity College Library atrium that I have put up of books and documents in the library relating to the sinking of the Titanic, which happened 100 years ago on April 15, 1912.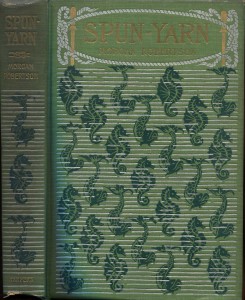 Spun-Yarn: Sea Stories.  Morgan Robertson (New York, 1898).
A collection of five sea-stories by the author of Futility, published the same year and mentioned below.  Morgan Andrew Robertson was born in Oswego, NY in 1861, the son of a Great Lakes ship captain.  He served in the merchant marine from 1877-86, became a jeweler in New York until his eyes failed him, and then made a meager living writing until he died almost penniless in 1915.
In 1898 Robertson concocted a novel about a fabulous Atlantic liner, far larger than any that had ever been built.  Robertson loaded his ship with rich and complacent people and then wrecked it one cold April night on an iceberg.  This somehow showed the futility of everything, and in fact, the book was called Futility when it appeared that year.
Fourteen years later a British shipping company named the White Star Line built a steamer remarkably like the one in Robertson's novel (which the library does not, unfortunately, own).  The new liner was 66,000 tons displacement; Robertson's was 70,000 tons.  The real ship was 882.5 feet long; the fictional one was 800 feet.  Both vessels were triple screw and could make 24–25 knots.  Both could carry about 3,000 people, and both had enough life-boats for only a fraction of this number.  But then, this didn't seem to matter because both were labeled "unsinkable."
On April 10, 1912, the real ship left Southampton on her maiden voyage to New York.  Her cargo included a priceless copy of the Rubáiyát of Omar Khayyám and a list of passengers collectively worth $250 million dollars ($100 billion today).  On her way over she too struck an iceberg and went down on a cold April night.  Robertson called his ship the Titan; the White Star Line called its ship the Titanic.
—Walter Lord, A Night to Remember (1955)
This entry was posted on Thursday, March 22nd, 2012 at 12:16 pm and is filed under
exhibitions
. You can follow any responses to this entry through the
RSS 2.0
feed. Both comments and pings are currently closed.