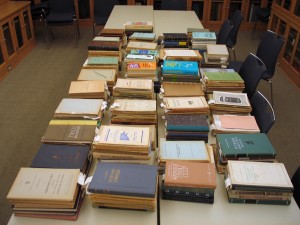 We have just unpacked eight (8) cartons of just over 300 books on Russian ornithology which we purchased from a well-respected Dutch antiquarian book dealer.  These books were originally part of a much larger collection put together by the great bibliophile Henry Bradley Martin (1906-1988), whose collections of ornithology, 16th- and 17th-century English literature, and 19th-century American and French literature were sold through Sotheby's (New York) in several well-publicized sales in 1989.
The books and pamphlets you see here constituted about half of Lot 1845 of Sale 5953 (Session II, December 13, 1989), which was purchased by another Dutch dealer.
In terms of research, this acquisition is a leap forward in the (admittedly obscure) field of Russian ornithology.  A very quick check against our two closest rivals in terms of historic ornithological collections (Yale and Cornell), has yielded the following analysis:
Of 300 titles, Trinity has 17, Yale has 18, and Cornell has 17. There is considerable overlap–of the titles owned by the three libraries, 7 are only at Trinity, 3 are at both Trinity & Yale, 4 are only at Yale, 6 are at both Yale and Cornell, 6 are only at Cornell, and 5 are at all three places.  With this acquisition, over 280 titles can only be found here at Trinity.
This entry was posted on Friday, March 23rd, 2012 at 6:28 pm and is filed under
New acquisition
,
ornithology
. You can follow any responses to this entry through the
RSS 2.0
feed. Both comments and pings are currently closed.