The page-turning of the Audubon will subside — for a brief summer vacation — until after the 4th of July.
Conservator Jean Baldwin is working in the Watkinson over the next several weeks to address some issues we have with our copy of Audubon's Birds of America.  The set has been at Trinity for 112 years, and in that time a few pages have been wrinkled, and the animal glue used in binding the book has hardened, and its brittle edges are essentially cutting into the first and last pages of each volume.  Jean is slowly removing the glue and replacing it with a more pliable and inert binder, as well as making spot repairs and ironing out wrinkles throughout the first two volumes (we will see to volumes II and IV in the summer of 2013).
Jean has been a paper conservator for over a decade, and before setting up under her own shingle she held positions in conservation and preservation at the Harry Ransom Humanities Research Center (University of Texas at Austin), the Library of Congress, and the Yale University Library.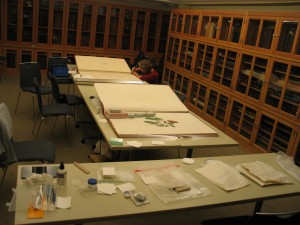 This entry was posted on Thursday, June 14th, 2012 at 12:39 pm and is filed under
Uncategorized
. You can follow any responses to this entry through the
RSS 2.0
feed. Both comments and pings are currently closed.