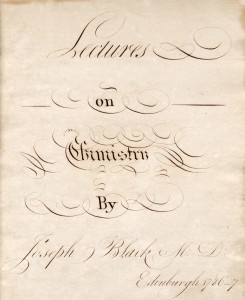 Here's a great example of what you can find just browsing.  Looking for a patron at what we had on chemistry, I came across a four-volume set of manuscript notes (possibly by a professional copyist) with the title-page "Lectures on Chemistry by Joseph Black, M.D., Edinburgh 1786-7."  It seems that we have a fair copy of Black's lecture notes, taken by William P. Maxwell, one of his students.  Apparently many copies of manuscript notes on Black's lectures, taken by his students, were in circulation at the time–some of which were better than others.  According to one source:
"Joseph Black (1728-1799) was Professor of Chemistry at the Universities of Glasgow (1756-66) and Edinburgh (1766-99). Immediately after his death, his executors decided to publish his lectures from his manuscript notes.  This step was taken as they were informed that publication was proposed from notes taken by his students . . . The best of these was considered so unworthy of Black that the executors wished to prevent the inadequate impression of his knowledge and talents which such a publication would make."
John Robinson, Professor of Natural Philosophy at Edinburgh and a former student of Black, was chosen to compile and edit the lectures, which were published in 1803.  We have in the Watkinson the first American edition (Philadelphia, 1807), which (interestingly) contains a list of 138 named subscribers, who ordered 528 copies, all told (the largest order by far was from Birch & Small, 200 copies). Another factoid of interest is that this copy was formerly owned by George Brinley, Jr. (1817-1875), the great Americana collector, who was a founding Trustee and second President of the Watkinson Library (75 years before it came to Trinity College).  Brinley gave this set to Trinity in 1842.
It might be a fascinating project for a student to compare our copy of the lecture notes with the published version, as a book history project.
Sources:
"Joseph Black's Lectures on the Elements of Chemistry" Isis 25:2 (Sept. 1936), 372-90
This entry was posted on Monday, June 3rd, 2013 at 3:56 pm and is filed under
From the stacks!
,
Random!
. You can follow any responses to this entry through the
RSS 2.0
feed. Both comments and pings are currently closed.