We have been thrilled to see a steady stream of folks from the Country Day School Headmaster's Association conference, hosted at Trinity between June 18-21.  Over 40 of the ca. 150 participants have found their way to the Watkinson (some ditched a session), and many have expressed delight and interest in our exhibition.  Here are some of the comments from our guestbook:
"Some things endure–fewer rules are better!"
"Thank you for putting it together–lots to read and think about."
"This is fabulous!"
"Enlightening & delightful exhibit!"
"Wonderful collection!"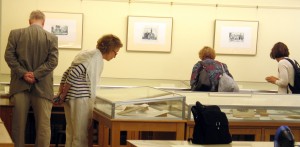 This entry was posted on Friday, June 21st, 2013 at 5:16 pm and is filed under
Events
,
exhibitions
,
News
. You can follow any responses to this entry through the
RSS 2.0
feed. Both comments and pings are currently closed.