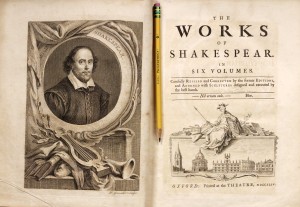 Sir Thomas Hanmer (1677-1746) was Speaker of the House of Commons from 1714-15, thought of himself as a serious editor, who probably had the idea of editing Shakespeare after Theobald's edition came out (Hanmer's annotated copy of Theobald is in the Folger Shakespeare Library).
Generally disregarded as an editorial effort, it is also hailed as a beautifully produced and illustrated book, and was a commercial success.
Shown here is a later edition (1751) in smaller format–the same pencil is scanned with both to show relative size.
Andrew Murphy, Shakespeare in Print (Cambridge UP, 2003)
This entry was posted on Friday, April 11th, 2014 at 12:46 am and is filed under
book history
,
Shakespeare
. You can follow any responses to this entry through the
RSS 2.0
feed. Both comments and pings are currently closed.