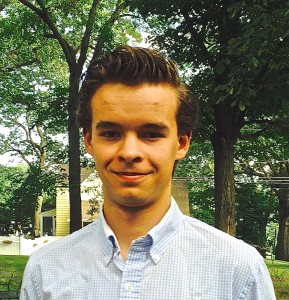 Henry Minot '17 is from Fairfield, CT, majoring in Classics, and is the Music Director of WRTC, Trinity College's radio station, and the House Manger of the Mill, the campus arts collective. Henry's project will be to create an "archive" of 18th-century Revolutionary War-era documents (like a series of letters, and a map) centered around a fictional man in Connecticut who is attempting to raise a militia company for the war effort.
Stefan Kramer (IDP) is a History major who works in the IT industry and has experience and schooling in film-making. Stefan will create a short film (working title, "What the Font?!") which will feature various fonts as characters in a short, humorous narrative, each with its own voice and characteristics–using our excellent book history collections.
The DEADLINE for applications for a spring Fellowship is December 1st!
This entry was posted on Friday, October 3rd, 2014 at 1:56 pm and is filed under
Creative Fellowships
. You can follow any responses to this entry through the
RSS 2.0
feed. Both comments and pings are currently closed.