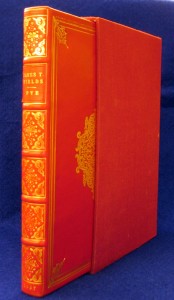 At the fall meeting of the Trustees of the Watkinson Library, Board member John William Pye '70 gave us an excellent gift of a special copy of his fascinating and detailed book on a major 19th-century publishing figure, James T. Fields, Literary Publisher (Portland, ME: The Baxter Society, 1987). His inscription reads:
"This unique Extra-Illustrated copy of my book on James T. Fields is given this day to the Watkinson Library at Trinity College in honor of the new College President Joanne Berger-Sweeney by the author, John William Pye, November 6, 2014." It is wonderfully bookish gift from a great bookman.
For those not "in the know" (take my course on rare books!), an "extra-illustrated" book is a special thing. The practice of extra-illustration (also known as "Grangerizing" for reasons too detailed to get into here), began in the late 18th century and enjoyed its greatest popularity during the 19th century.
You begin with a favorite book (often it was the Bible, the works of Shakespeare or an author of similar stature, or a seminal national history, etc.); take it out of its original binding; add in things that relate to the text (portraits, letters, etc.) that are then mounted on leaves (pages) of the same size, then put it into a new, custom-made binding.
The original binding of John's book looked like this, and it is about 1/3 as thick as the extra-illustrated copy, which of course was swelled to its current thickness by the insertions John made. Tthe difference is shown here, with a shot of the fore-edges of each book, side by side
. The left-hand book is the extra-illustrated version.
Inside are manifold and unique bits and pieces that relate to the text. For instance, opposite page 6 is a tipped-in engraving of Henry Wadsworth Longfellow, under which is likewise affixed an original autograph signature of that author. The relevant text, on pp. 6-7, discusses how Longfellow, a "young professor of languages at Bowdoin College who was seeking a publisher for his recently translated collection of Spanish poems," approached the firm Allen & Ticknor, and a deal was made.
Other images included here are a photograph of Dickens with an original envelope which held one of his letters to Ticknor & Fields, a binding cloth sample from an edition of Tennyson, and a royalty payment check.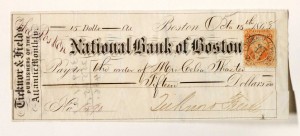 This entry was posted on Tuesday, December 2nd, 2014 at 7:07 pm and is filed under
book history
,
Gifts
. You can follow any responses to this entry through the
RSS 2.0
feed. Both comments and pings are currently closed.