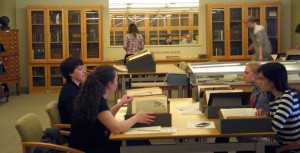 As an exercise in analyzing the artifact, Jonathan Elukin's Honors Seminar on the History of the Book (FYSM 256) recently examined two works from our collections which occur in, shall we say, multiple "instances." Four copies of two editions of the so-called Nuremberg Chronicle, (German and Latin), published in 1493 . . . and five editions of Sebastian Münster's Cosmographia, all printed in Basel, 1550 ; 1558; 1559; 1568; and 1574.
The question we put to the students: Why do we need multiple copies of an edition of a work, or even multiple editions of the same work? What (if anything) can each copy of each edition "teach" us?
The students did an excellent job of examining the various aspects of the books, which included marginalia, binding, rubrication, hand-colored illustrations, observations about linguistic changes over time, and other factors crucial to the study of what kinds of information was available to Europeans about the world in the Renaissance, and the modes of the production and distribution of that information.
Not only did we decide to keep all of the copies, they convinced me that I should try to acquire (by gift or purchase) more editions of the Cosmographia! Since complete copies of 16thC editions run into five figures these days, this may take a while…
The most gratifying part of all this, of course, is to be able to provide such a fully equipped "laboratory of the humanities" for Trinity students. The rare book collections in the Watkinson are equal to, and most often exceed, those of our "peer" schools, and is a true point of pride for Trinity.
This entry was posted on Friday, April 3rd, 2015 at 1:58 pm and is filed under
book history
,
Classes
,
students
. You can follow any responses to this entry through the
RSS 2.0
feed. Both comments and pings are currently closed.