Last night the English Department sponsored an event in the Watkinson to help us celebrate the gift of two archives (now processed and ready for researchers) by retired professor Paul Lauter.
The larger of the two archives are 25 boxes of files and papers related to the formation and production of the Heath Anthology of American Literature, now in its eighth edition. The Heath Anthology  began in 1984 as a project of The Feminist Press called Reconstructing American Literature (RAL).  The literary "canon," according to Lauter and his collaborators, had long overlooked the writings of most women and people of color.  Beginning at the 1968 meeting of the Modern Language Association, activist conference participants argued for a more inclusive and diverse understanding of American literature.  Lauter was a leader in this groundbreaking endeavor, from which the RAL project and ultimately an entirely new anthology emerged.
Among the categories in the Lauter collection are African American, Asian American, Latino/a, and Native American writings, organizations like MELUS (Multiethnic Literature of the United States), traditionally significant authors like Melville, Multiculturalism, Secondary School projects (for changes in high school curricula) and Teaching. The Teaching folders feature syllabi developed for the Heath Anthology  along with articles by Paul Lauter and other members of the Heath editorial board on such topics as using the anthology and teaching lesser-known writers and multicultural literature.  Also included are copies of a biannual newsletter produced by the publisher, DC Heath, to promote the anthology and to help faculty teach its breadth of literary texts.  54 folders labelled "Miscellaneous" offer access to varied works by authors considered for the anthology, searchable by last names.  The Heath Anthology  is, in fact, part of a revolution in the study and teaching of American literature.
"In putting together the Heath," Paul Lauter wrote, "we wished to represent what we perceived to be the rich diversity of American cultures, [especially] the significance of gender, race, and class to the shaping and reception of literary texts."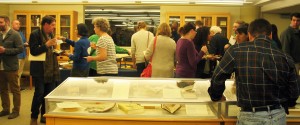 The second collection is the Paul Lauter 'Sixties Archive, comprising fourteen boxes which contain correspondence, pamphlets, newspapers, books, and flyers from organizations like Students for a Democratic Society (SDS), New University Conference (NUC), American Friends Service Committee, U.S. Servicemen's Fund, and the Feminist Press.  Lauter, who was active in all of those organizations, also collected materials on the anti-Vietnam-war movement, including draft resistance and GI peace activity, the feminist, civil rights, and LGBT movements of the time, and student activism more generally.