…When you hold an event with minimal marketing and the die-hard supporters come out.
Roughly a dozen folks came to our opening today, but we had a rather lively game of Trivia, some excellent cider and pumpkin bread (if I may say so), and dicoursed on how many themes in Trinity's history seem to recur every few years! Look for this event again in a few weeks during Family Weekend and Homecoming!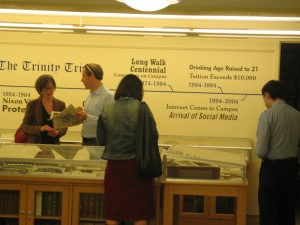 This entry was posted on Tuesday, October 6th, 2015 at 6:12 pm and is filed under
College Archives
,
Events
,
exhibitions
,
Trinitiana
. You can follow any responses to this entry through the
RSS 2.0
feed. Both comments and pings are currently closed.