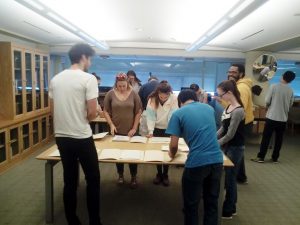 Two days ago we held our second annual summer STEM event–this time focusing on the chemistry students and faculty who work in their labs all summer. On display were some of the 19thC prize essays in chemistry mentioned in the previous post, and half a dozen faculty and almost 30 students came by to delve into this collection, and see what was expected of a Trinity student studying chemistry more than a century ago. Those who broke free from their labs got a voucher for a free coffee at Peter B's.
This entry was posted on Friday, June 24th, 2016 at 5:52 pm and is filed under
College Archives
,
Events
,
students
. You can follow any responses to this entry through the
RSS 2.0
feed. Both comments and pings are currently closed.