The Watkinson is pleased to announce the gift of the Leigh Couch Collection of science fiction magazines, consisting of several hundred magazines dating from the 1930s to the 1980s. It is particularly strong in the magazines from the 1950s and 1960s, when experimental, diverse and New Wave writers like Samuel R. "Chip" Delaney, Roger Zelazny, and Michael Moorcock were remaking the field into its modern form. Scores of issues feature the first appearances by many of the most important writers in contemporary science fiction, including Philip K. Dick, Connie Willis, Joe Haldeman, Ursula K. Le Guin, and many others.
Science fiction fandom began in the United States in the 1920s when pulp fiction magazines like Amazing Stories (founded by Hugo Gernsbach, for whom the annual science fiction Hugo Awards are named) were the medium for the development of the science fiction genre, and attracted passionate followers who connected with each other through letters published in the pulps. They began to correspond, form groups, publish the first fanzines (or zines) and many sought to become professional writers. Early fans-turned-pros include Ray Bradbury, Jerry Siegel and Joe Shuster (creators of Superman), and Isaac Asimov (I, Robot).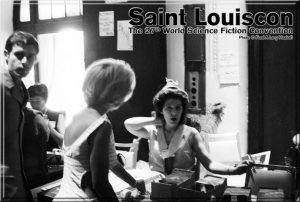 Leigh Couch (1925-1998) was a fan of science fiction who began reading the genre in the pulp magazines as a child in the 1940s, so she was a pioneer as the fandom was predominantly male for decades. As a Catholic grade school teacher and young mother of three, she become very active in science fiction fandom from the 1960s through the 1980s, along with her whole family. She attended numerous world and regional science fiction conventions and was on the planning and organizing committee of the Saint Louiscon World Science Fiction Convetion in 1969, the year of the Moon landing. She and her husband Norbert C. Couch were popular fan guests of honor at regional conventions in the Midwest in the 1970s.
In a letter to a zine in the 1970s, she recalled, "I don't think a young fan of today can realize how suspect we were for reading the pulps, and for a girl to read [SF], that was almost proof of perversion!" During her almost three decades of activity in science fiction fandom, she was a mentor to many younger fans, both personally encouraging of their publishing, writing, and art activities, and providing a role model as a mature and professional adult who also took popular culture seriously, publishing zines, writing letters and articles, running and attending science fiction conventions. She published the well-regarded zine Sirruish, which was included in Fredric Wertham's The World of Fanzines: A Special Form of Communication.
The collection will be available for research in the fall.